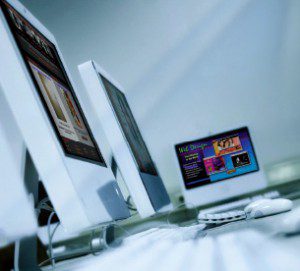 The AAS of Graphic Design serves high school graduates, persons seeking to make career changes, professionals who are upgrading or adding to their job skills, and those who seek personal enrichment by developing their artistic talents. Graphic design, like many creative fields, is a competitive profession. Being a successful graphic designer requires excellent communication skills, attention to detail, creativity, problem solving skills, and up-to-date knowledge of the latest software. Creating an impressive design presentation portfolio is critical in order to obtain employment. Our student's use traditional manual skills and the graphic software Adobe Creative Suite: PhotoShop, Illustrator, Flash, InDesign and DreamWeaver.
Our goal as the Faculty of the Art & Design Department at South Suburban College is to help you become an outstanding artist or designer. You will have the opportunity to:
Develop your skills through personal instruction in a supportive work and study environment.
Learn not only the how, but the why of art and design…and learn by doing, not just listening.
Draw upon the best resources a major community college has to offer, including extensive library resources, galleries, studios, and a state of the art digital lab equipped with Macintosh computers and the latest Adobe Design software.