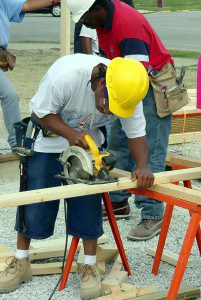 This program deals with the issues involved in inspecting buildings and commercial structures to ensure municipal building code requirements are met. We are proud to offer the only building code enforcement program in the South Suburban region.
Building codes vary with each town or city depending on the construction of a commercial or residential structure. Enforcing codes and building within codes requires a knowledge of building construction. South Suburban College offers the only building code enforcement program in the south suburban region.
Preparation for technical occupations in building code enforcement. The program includes study of principles, emphasizing construction materials and methods, principles of construction codes, legal authority and enforcement techniques. This program has been articulated with some area high schools. Recent high school graduates may have earned credit in this program through high school coursework.
What will I learn in class?
Classes cover blueprint reading, basic code enforcement, decision-making in code enforcement, fire extinguishing and detection systems, construction materials and methods in wood, electrical and masonry. Specialized inspection training is provided in concrete, framing, electrical, HVAC, and plumbing.
In South Suburban College's building code enforcement program, you'll gain a good overall knowledge of the field and preparation to take the certification examinations administered by the International Code Council. ICC codes, the most universally accepted in the United States, are emphasized in our program.
What is the employment outlook?
South Suburban College's building code enforcement program prepares you for a career as a building inspector. Job opportunities are available in the public sector of the industry through work in local, State and government agencies.
Employment opportunities for building code enforcement graduates are excellent, with median annual earnings of $46,570 according to the Occupational Outlook Handbook.
Overview for College Success
Credits
Overview for College Success (OCS 121) is a class that will help you plan and assist you in becoming a better student and support you in your work/life balance. OCS 121 credit is not calculated in the course minimum credit totals listed in this section.
OCS 121
Overview for College Success
1
General Education
Credits
ENG 101
Composition and Rhetoric
3
SPE 108
Oral Communication
3
GROUP II
Humanities Elective
3
GROUP III
Social and Behavioral Science Elective
3
GROUP IV/V
Science Elective
4
Program Core
Credits
BLD 101
Construction Materials and Methods I-Wood
4
BLD 105
Print Reading for Building Construction
3
ENG 121
Technical Business Writing
3
BCD 101
Introduction to Codes Enforcement
3
BCD 103
Residential Concrete and Framing Inspections
3
BCD 104
Residential Plumbing Inspections
3
BCD 105
Residential Electrical Inspections
3
BCD 106
Mechanical Inspections
3
BCD 108
Building Construction Fire Science
3
BCD 109
Property Maintenance
3
BCD 201
Decision Making in Code Enforcement
3
BCD 202
Plan Review
3
BCD 225
Light Commercial Inspection
3
BLD or BCD
Course From Building Construction Electives Below
OR
Course From Building Code Enforcement Electives Below
5
Minimum for Degree:
61
Building Construction Electives (Select at least 10 hours)
Credits
BCD 190
International Energy Code
3
BCD 230
Internship
3
BCD 239
Green Building Inspections
3
BLD 103
Construction Materials and Methods V- Home Energy Dynamics
3.5
BLD 210
Renovate Energy Efficient Green Home
5
Building Code Enforcement Certificates
Building Code Enforcement Certificate (BCD.BASIC.CODENF)
Overview for College Success
Credits
Overview for College Success (OCS 121) is a class that will help you plan and assist you in becoming a better student and support you in your work/life balance. OCS 121 credit is not calculated in the course minimum credit totals listed in this section.
OCS 121
Overview for College Success
1
Cluster 1
Credits
BCD 101
Introduction to Code Enforcement
3
BCD 103
Residential Concrete and Framing Inspections
3
BCD 108
Building Construction Fire Science
3
BCD 109
Property Maintenance
3
BCD 201
Decision Making in Code Enforcement
3
BCD 202
Plan Review
3
BCD 225
Light Commercial Inspection
3
BLD 105
Print Reading for Building Construction
3
Electives (Select a minimum of 5 hours)
Credits
BLD 103
Home Energy Dynamics
3.5
BLD 210
Renovate Energy Efficient Green Home
5
BLD 220
Build Energy Efficient Green Home I
6
Minimum Hours for Certificate:
27.5
Basic Certificates
Total Credit Hours:24-25
Overview for College Success
Credits
OCS 121
Overview for College Success
1
Concrete and Framing Inspections (BCD.BASIC.CONFRM)
3
Preparation for technical occupations in building code enforcement. The program covers the principles of construction codes enforcement with an emphasis on single family concrete and framing inspections.
BCD 103
Residential Concrete & Framing Inspections
3
BCD 202
Plan Review
3
BLD 101
Construction Materials & Methods I – Wood
4
BLD 102
Construction Materials & Methods II – Masonry
4
BLD 105
Print Reading for Building Construction
3
BLD 210

BLD 220

Build Energy Efficient Green Home I
OR
Renovate Energy Efficient Green Home
5

6

Total Credit Hours:
22-23
Plumbing Inspections (BCD.BASIC.PLUMBINSP)
Credits
Preparation for technical occupations in building code enforcement. The program covers the principles of construction codes enforcement with an emphasis on single family plumbing inspections.
BCD 104
Residential Plumbing Inspections
3
BCD 202
Plan Review
3
BLD 101
Construction Materials & Methods I-Wood
4
BLD 105
Print Reading for Building Construction
3
BLD 105
Print Reading for Building Construction
3
BLD 210

BLD 220

Build Energy Efficient Green Home I
OR
Renovate Energy Efficient Green Home
5

6

BLD 221
Build Energy Efficient Green Home II
6
Mechanical Inspections (BCD.BASIC.MECHINSP)
Credits
Preparation for technical occupations in building code enforcement. The program covers the principles of construction codes enforcement with an emphasis on commercial and residential inspections.
BCD 106
Mechanical Inspections
3
BCD 202
Plan Review
3
BLD 101
Construction Materials & Methods I-Wood
4
BLD 105
Print Reading for Building Construction
3
BLD 210

BLD 220

Build Energy Efficient Green Home I
OR
Renovate Energy Efficient Green Home
5

6

BLD 221
Build Energy Efficient Green Home II
6
Total Credit Hours:
24-25
Electrical Inspections (BCD.BASIC.ELCINSP)
Credits
BCD 105
Residential Electrical Inspecting
3
BCD 202
Plan Review
3
BLD 101
Construction Materials & Methods I-Wood
4
BLD 105
Print Reading for Building Construction
3
BLD 206
Construction Material & Methods IV- Electrical
4
BLD 210

BLD 220

Build Energy Efficient Green Home I
OR
Renovate Energy Efficient Green Home
5

6

BLD 221
Build Energy Efficient Green Home II
6
Total Credit Hours:
22-23