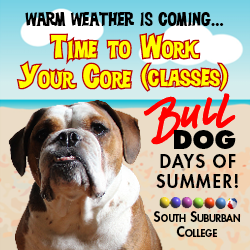 Time to work on your core (classes)
South Suburban offers:
Convenient campuses in South Holland and Oak Forest for "Traditional" courses
Online courses for a flexible way to attend your summer course…seriously "attend" class from anywhere. Tuition for online courses is only $152 per credit hour regardless of where you live in the USA.
If you are looking to transfer credits back to your current college or university it is important to check the courses you select will transfer back to your home institution.
Traveling from NW Indiana?  From the state line on I80/94 you can be at our South Holland campus in about 13 minutes or our Oak Forest campus in about 17 minutes.
New students to SSC can stop by the Admissions Office for assistance with the admissions process – Main Campus Room 2348.
Get started! Summer semester begins the week on June 3rd.