HISPANIC HERITAGE MONTH EVENT: Loteria
September 22 @ 1:00 PM

-

2:00 PM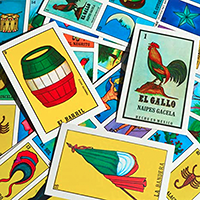 Join us for to play Loteria! Online (Bingo-like game) on Thursday, September 22nd from 1:00pm-2:00pm The traditional Loteria dates back to the 15th century.
Initially played by the colonial Mexican elite, it eventually was embraced by all social classes. In the 19th
and early 20th centuries, Traveling Ferias would set up in small Mexican towns on the weekends, with
Loteria being one of the bigger attractions.
All Students and community members are welcome!
ZOOM SESSION: https://zoom.us/j/98842226602
ZOOM ID: 988 4222 6602
For more information contact Christina Gutierrez, Manager of Outreach & Onboarding, at (708) 596-2000 ext. 2023.