Student Government Association Election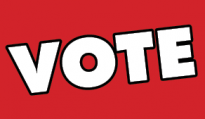 Students will be able to let their voice be heard through leaders, by participating in the SGA election Tuesday, February 7th – Thursday,February 9th.
Students can cast their vote for Vice President of Public Relations and Promotions, Vice President of Financial Affairs, Secretary and Senator(s).
Contact the Student Life and Leadership office at (708) 596-2000 ext. 5737 or visit Room 2329 for details.
To request a petition visit Student Life and Leadership in Room 2329 or contact Danielle Whitted.