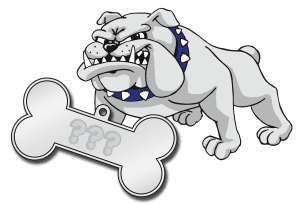 Name Our Nameless Bulldog.
Our Bulldog needs your help. This poor pup has been around for years and still doesn't have a name. You can change that. Participate in our Bulldog Naming Contest by submitting a name and be entered to win a prize.
The Rules for Round 2:
You must be a current student.
You may enter only once.
You may only vote using the form below.
The Details:
Round 2 – February 20th thru February 27th: Students will vote for their choice from the 10 names below.
The winning name will be revealed Wednesday, February 28th, during Student Appreciation Week.
The students with the winning and next highest voted name will receive prizes. (If more than one student submitted the same name a random drawing will be used to determine the winning student.)
---
Name Our Bulldog!
Round 2 – We are one step closer to naming our nameless bulldog.  More than 500 names were entered and now we are down to our final list. Current students may vote only once in this round. If you submit more than one time only the first vote, according to timestamp, will be counted.
Official Ballot