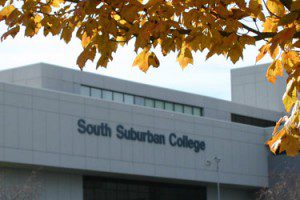 South Suburban College Today
More than 17,000 students, on average, are enrolled at South Suburban College during a typical year. The College offers a wide selection of career education and college transfer credit programs. Additionally, South Suburban College's Business & Career Institute offers non-credit customized training, short-term instruction for business, and dozens of special interest classes.
The College has a state-of-the-art Performing Arts Center. A variety of cultural events are sponsored by the College, including plays, comedy acts, special lectures, and concerts, adding to the richness of the performing arts in the south suburbs.
In the future, SSC will continue to provide educational opportunities to the community in traditional areas, as well as in new and emerging fields. Through our distance learning endeavors we hope to be able to reach tomorrow's student in even more exciting ways.
In spite of the State budget situation, South Suburban College will continue to provide quality, affordable education with small class sizes and support services. We are not in danger of closing our doors and encourage you to look no farther than SSC when making your academic plans.

– SSC President Donald Manning
Our Mission:
The mission of South Suburban College is to Serve our Students and the Community through lifelong learning.
SSC is dedicated to:
High quality education, training, and services for all individuals who have the ability to benefit from our programs.
Programs that are accessible and affordable provided to a diverse community of learners.
Training delivered in collaboration with local businesses.
A community of staff, faculty, and students that create an environment and resources for learning.
Up-to-date facilities and technology that help prepare students for transfer to baccalaureate programs or the job market.
Our Vision:
South Suburban College is a welcoming, attractive, efficient, safe, transparent, and financially secure institution that fosters creative communication and synergy within the campus community and between that community and its partners.
Through innovative teaching, integration of technology, modeling sustainable practices that value the environment, cultivation of external partnerships and a culture of assessment, SSC will play a pivotal role in transforming the lives of its diverse student population.
Institutional Summary:
Board of Trustees
Frank M. Zuccarelli, Chairman
John A. Daly, Vice-Chair
Janet M. Rogers, Secretary
Anthony P. DeFilippo
Vivian Payne
Terry R. Wells
Joseph Whittington, Jr
Don Manning, President
Admissions
Factors used in admissions: high school diploma or equivalent, admissions is open
Academics
Academic Calendar: Semester
Students Enrolled in 12 month period: 9,770
Total Awards: 703 (404 Associate's degrees / 299 Certificates)
Graduation Rate: 29% (3-Yr. Average)
Retention Rate:  49% Full-Time & 40% Part-Time
Types of courses/programs offered: occupational, academic, adult basic, remedial, High School Equivalency (HSE), or English as a Second Language (ESL)
Approximate Cost of Tuition & Fees Based on 30 Credit Hours
Tuition data effective FALL 2017
In-district: $4,350.00 per academic year
Out-of-district: $10,290.00 per academic year
Lake County, IN: $5,400.00 per academic year
Out-of-state: $11,940.00 per academic year
Types of aid available: Federal Pell Grants, SEOG, veterans administration educational benefits, work study, MAP Grants (State)
Services/Facilities
Student Services: Academic assistance/tutoring, academic/career counseling, transfer counseling, employment, job placement, assistance for students with a visual, hearing or physical impairment (or disability), access for students with a physical disability, on-campus day care, student life and athletic programs, short-term medical insurance.
Welcome to South Suburban College!
Please take a moment to explore our website and experience the wide-range of opportunities that SSC provides to students of all ages, backgrounds, and interests. As the President of SSC, my mission is to ensure that we are accessible to all of the residents within College District 510, Indiana, and the south Chicago region who are seeking higher education to improve their lives.
SSC offers over 50 career and transfer programs, community and adult education, non-credit courses, business training programs, High School Equivalency (HSE) and ESL education, and much more. We are proud to have an extremely talented and experienced faculty, and our programs are convenient and affordable. Whatever you may choose, I wish you the best of luck with your educational goals and hope to see you around South Suburban College.
If you need any assistance getting started or would like to schedule a tour, I encourage you to reach out to our Admissions Office at (708) 210-5718 or  Admissions@ssc.edu