South Suburban College is now a COVID-19 vaccination site! As more vaccine becomes available new appointments may be made online at vaccine.cookcountyil.gov, or by calling (833) 308-1988, from 7 a.m. to 7 p.m., Monday through Friday. The vaccination site is open Mondays through Saturdays from 8 a.m. – 6 p.m.
The COVID-19 testing site will continue on Monday, Wednesday, Friday, and Saturday, from 8 a.m. – 4 p.m. through April as part of its most recent intergovernmental agreement renewal with the Illinois Department of Public Health (IDPH).
COVID-19 Confirmed Cases
This Week
4/12/2021 – 4/18/2021
Cumulative Since 3/19/20
Students
1
18
Employees
0
35
Total
1
53
Table updated on 4/12/2021
What are the symptoms of Coronavirus?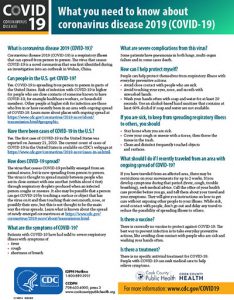 Common coronaviruses typically cause mild to moderate upper-respiratory tract illness, and those affected exhibit cold-like symptoms.
The most common symptoms include:
Headache
Cough
Fever
Sore Throat
Runny Nose
Some cases of coronavirus can be more severe, and individuals experience more serious lower-respiratory tract illnesses like bronchitis and pneumonia. For the elderly, infants and those with weakened immune systems, coronavirus can be even more dangerous.
How can we prevent infections with Coronavirus and other respiratory diseases?
As with any respiratory virus, students and school personnel can protect themselves and others by taking everyday common sense actions:
Wash your hands often with soap and water for at least 20 seconds. If soap and water are not available, use an alcohol-based hand sanitizer with at least 60% alcohol.
Avoid touching your eyes, nose, and mouth with unwashed hands.
Avoid close contact with people who are sick.
Stay home when you are sick.
Cover your cough or sneeze with a tissue, then throw the tissue in the trash.
Clean and disinfect frequently touched objects and surfaces.
MARCH 2021
FEBRUARY 2021
OCTOBER 2020
AUGUST 2020
JULY 2020
JUNE 2020
MAY 2020
Please be advised that in light of Governor Pritzker's new stay-at-home order through May, SSC will extend our facility closure until the start of summer classes on Monday, June 1st.
The Commencement Ceremony scheduled for June 7th is now postponed as we consider alternate options.
APRIL 2020
MARCH 2020
The NJCAA announces that all athletic activities are suspended until April 3rd.
SSC is extending Spring Break through March 22nd, however, both campuses remain open for business.
SSC campus events are suspended through March 22nd.
SSC suspends all college-sponsored international travel including Study Abroad and Faculty Exchange programs.
ICCB suspends all Adult Education Programs Tuesday, March 17th through March 30th with a presumed re-opening date of March 31, 2020.