The Showcase 2020 Gala has been rescheduled for August 14th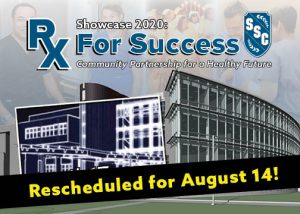 Each year the South Suburban College Foundation (SSCF) hosts our spring gala from which proceeds benefit scholarship opportunities. This year's Showcase event is titled Rx for Success has been rescheduled for Friday, August 14, 2020, at Odyssey Country Club. Dr. Helen Krippel of Advocate Aurora Health is our 2020 Gala Chair! We are seeking registrations and donations from www.showcase2020.givesmart.com.
The SSC Foundation also proudly announces the establishment of a COVID-19 Student Impact Fund with an initial $10,000 commitment to provide some relief to students. We hope to secure additional donations to assist students with hardships as a result of the coronavirus pandemic, as well as initiate an investment in the expansion of College healthcare programs. Please consider supporting this new fund from https://11607.thankyou4caring.org/scholarship.
To better support our students, the SSCF Scholarship Committee has extended our general scholarship deadline to April 24th. Apply online from www.ssc.edu/scholarships or email foundation@ssc.edu.
All donations to the SSCF are 100% tax-deductible. We accept PayPal at foundation@ssc.edu, Credit Card online or checks payable to "SSC Foundation." Please return email foundation@ssc.edu to make a pledge or if you have any questions. We are more than happy to pick up any donations.
All donations to the SSCF are 100% tax-deductible. We accept PayPal at foundation@ssc.edu, Credit Card online or by phone at (708) 225-5846, or checks payable to "SSC Foundation." Please return email to make a pledge or if you have any questions. We are more than happy to pick up any donations.
Thank you in advance for your consideration–your support truly makes a difference!
Patrick Rush
Executive Director of PR & Resource Development
Alumni Rewind
This "Alumni Rewind" features Jarrett M. Adams '09. NBC Nightly News reporter Lester Holt interviews Jarrett about being exonerated after serving nearly 10 years for a wrongful conviction and using the injustice he endured as inspiration to become an advocate for the underserved and uncounted. He earned an Associate's Degree from SSC in 2009, eventually graduated from Loyola Law School and passed the New York bar exam on his first attempt in 2016. Congratulations Jarrett on the first of many wins!.
Bulldog Pride
Clarissa Charles
Paralegal/Legal Assistant Program, Class of 2003
Clarissa, Homewood Resident, and Thornton Township High School graduate, has utilized her skills and degree earned through the college's Paralegal/Legal Assistant Program to earn a rewarding career as a paralegal with LAF (Formerly known as The Legal Assistance Foundation of Metropolitan Chicago).
"This is a job I love to do. Legal Research and writing skills, as well as communication and listening skills, are the most essential elements that I learned from SSC," said Clarissa. "Although my organization does not handle probate matters, the knowledge obtained in my probate law class, taught by my former instructor Patrick Dean, has become quite useful in identifying many heirship issues, as it relates to property, that comes my way."
Clarissa works closely with an intake attorney and directors (also attorneys) of the Client Screening Unit in the Homeownership/Foreclosure Project. She screens homeowners facing the loss of their homes through foreclosures or other housing-related issues in gathering demographic, confirming property, and title/mortgage loan information, while identifying other issues that homeowners and their family members may be adversely affected by in order to offer legal advice, referrals, or legal assistance. When her schedule permits, Clarissa also volunteers in community outreach programs within the organization.
Clarissa has shown her Bulldog Pride returning to campus to give back several times in the years since her graduation, including serving on discussion panels for SSC's annual Law Day.
South Suburban College Foundation
The mission of the South Suburban College Foundation (SSCF) is to support the educational purposes and objectives of the College by providing assistance in the promotion of SSC's services and facilities. The SSC Foundation seeks funding to strengthen College programs with a primary focus on student scholarships. Established in 1973, the Foundation is solely governed by a Board of Directors composed of the region's business, civic and community leaders.
The SSCF is a philanthropic, not-for-profit organization chartered in the State of Illinois and is a 501(c)(3) tax-exempt organization (EIN: 237191738). It works cooperatively with individuals and organizations in developing a plan to fit the needs of the donors. The Foundation raises funds primarily through annual campaigns including the Showcase Dinner in the spring, and the fall Donor Drive. The total SSC Foundation endowment at the start of Fiscal Year 2019 is $ 1,104,206.
With the cost of higher education on the rise and state funding on the decline, students are finding it more difficult to afford a full-time college education. At SSC, 90% of our students fall under the low income, first-generation, disabled or low income and disabled criteria. Your donation significantly helps these students and is an investment in the future economic development of the south suburban region.
---