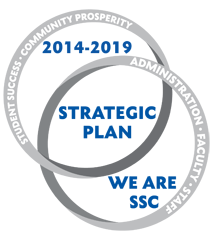 Dear South Suburban College Community:
It is with pride and gratitude that we present South Suburban College's Strategic Plan 2014-2019.
The strategic directions and goals outlined in this plan draw upon the collective wisdom, experience, passion, and hopes of many dedicated members in our college community.
SSC's plan has a dual focus:  supporting student success and advancing community prosperity.  The plan is comprehensive, forward thinking, and aligns with the American Association of Community College's 21st Century Commission on the Future of Community College's 2012 report, Reclaiming the American Dream:  Community College and the Nation's Future.
The plan is the culmination of a campus wide effort that actively engaged community educational and business leaders, faculty, staff, and students.
South Suburban College purposely chose a broad, collaborative and community-based strategic planning process.  The values of openness, inclusiveness and transparency guided the entire planning process.
The college examined the three areas most relevant to the college's mission, vision, values, opportunities, and priorities:
Increasing student's readiness to undertake college-level work.
Improving completion rates.
Closing skill gaps; aligning graduates' learning and credentials with industrial and occupational demands.
We invite you and others within our community to continue engaging and contributing to the exciting, necessary, and demanding work before us.  We are confident that through our collective efforts and combined expertise, the college and our community will achieve the goals and priorities identified in the plan.