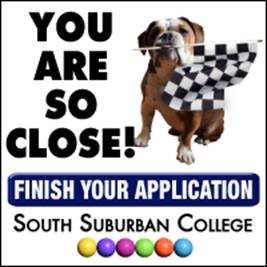 You have OPTIONS at South Suburban College
With more than 50+ programs of study that lead to in-demand careers in 16 weeks to 2 years.
Low tuition cost, special tuition programs, scholarships, financial aid and flexible payment options means finishing at SSC with no student loan debt.
The flexibility of distance learning and campuses locations in Oak Forest and South Holland makes learning convenient.  View our schedule and see that attending college is a lot easier then you think with  online, day, evening and weekend courses.
Transferable college credit is a great way to save money on tuition and complete a 4-year college degree.  South Suburban College is accredited by the Higher Learning Commission and Illinois Community College Board so you can take your education wherever you want to go.
A variety of student support services like advising, tutoring and disability services are available to help you reach your educational goals as quickly as possible.
You might even qualify to try out SSC for FREE!
Why I chose SSC…
Krista Summerville – Radio/TV
Krista Summerville graduated from South Suburban College in May of 2011. She attended SSC on a full ride volleyball and basketball scholarship – which means her entire tuition and books were paid for. She is now a News Producer/Reporter for KTHV in Little Rock, Arkansas. While at SSC, Krista enjoyed getting to work with up-to-date technology in the classroom like AVID editing software, Pro Tools, audio editing software and more.
"Majoring in Communications at SSC was the key to my success. I was able to learn tons of information; that I still use today; in the two years I was there. The hands on teaching and being able to host the Daily Delivery kick started my confidence in the journalism field. I am truly grateful for the opportunities that were presented to me at SSC."
Joshua Patel – Information Technology
Joshua Patel is a Network Specialist. He enjoyed the topics covered in his Management Information Systems and Computer Information Sciences classes at SSC. He had the opportunity to become an intern for SSC Connect on campus. This provided him with real world experience as a technician, troubleshooting laptop hardware/software and running data cables. Joshua also obtained his CompTIA Network + certification while attending SSC, which is essential in his line of work.
"Before South Suburban College, I was a Psychology graduate at a university. After South Suburban College, I was an Information Technology professional. SSC introduced me to Information Technology, and I fell in love with it as I completed my education. In short, it changed my life."
Stuti Sharma – Chemistry & English Student
Stuti Sharma was born in Kenya and moved to the United States when she was five years old. She was homeschooled throughout high school. Stuti is now an SSC student, double majoring in Chemistry and English. She spends her free time with SSC's Music Department. Music has been a part of Stuti's life since before she could read. She has been playing piano for 17 years and was thrilled that SSC's music program was open to accepting non-music majors.
"SSC is helping me make a good educational decision, given the options I have. Music is a science and an art; it uses all the parts of the brain, and it seems connected to the physics part of Chemistry and the poetry, phrasing, and expression of Literature and writing. I chose English because a love of literature and a desire to be a published author are two monumental parts of my life. I chose Chemistry because I love science and research, and as an English major, I do not want to be one dimensional in my thinking. I love the arts, but it is the rigors of science and math that inspire me to think creatively."
Ruth Johnson Colvin – Alumna
Ruth Johnson Colvin is an alumna of Thornton Junior College (now South Suburban College). She recently celebrated her 100th birthday. Colvin was given the President's Volunteer Action Award in 1987. She started Literacy Volunteers of America, one of the founding organizations of ProLiteracy. Colvin has visited numerous countries and has authored books to combat illiteracy.
"I'm… still reading, writing, teaching, traveling, playing golf and active on boards and in church. It's life long learning."
Michael McKenzie – Manufacturing & Maintenance Technology Student
Michael McKenzie's goal is to become an auto mechanic. He spends his time outside of the classroom studying to move toward his career goal. Michael has enjoyed his experience at SSC.
"I've taken a free class at this school. It was a benefit because I wanted to experience what college life was like. This school is preparing me for a 4-year university and helping me achieve my goals."