#28 Steve Ruzich — Head Coach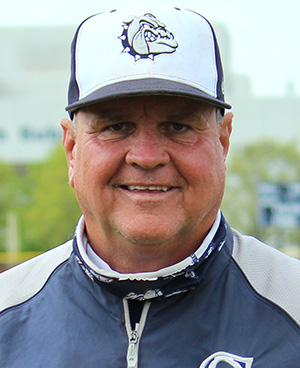 Coach Steve Ruzich was an All-American catcher at the College of St. Francis. He graduated in 1985 and was drafted that summer by the Chicago White Sox. Steve had a short stint as a pro catcher before coming to South Suburban College as head baseball coach in 1987.
Steve Ruzich enters his 37th season 1270 wins and 749 losses. Included in his tenure have been fourteen regional titles, two appearances at the JUCO World Series and nine regional runner-up finishes. In 2005, under the guidance of Coach Ruzich, the Bulldogs set a school record for most wins and winning percentage in a season going 51-11 (.823).
On May 23, 2014, Coach Ruzich will officially be inducted into the NJCAA Baseball Coaches Hall of Fame in an opening ceremony for the 2014 World Series in Grand Junction, Colorado–annual home of the NJCAA Division I World Series–where Ruzich's Bulldogs have made two past appearances. This recognition is a rare accomplishment–the NJCAA Hall of Fame began in 1982 and the Selection Committee has only chosen 89 members since that time.
His coaching awards have included N4C Coach of the Year, Region 4 Coach of the Year (fourtenn times), College Coach of the Year from the Pitch and Hit Club of Chicago (twice), Great Lakes District Coach of the Year and Diamond District Coach of the Year.
Steve's student athletes' graduation rate is 75%. Steve has coached eleven All-Americans including 2013 1st team Steve Letz and 2006 1st team Lee Fischer who was also voted best defensive player in the nation. "Coach Ru" also has had 24 players drafted by major league teams including six players that have reached the big leagues. Five former SSC players went on to the Major Leagues, including Tim Brydak (Kansas City Royals), Ron Mahay (Boston Red Sox), Rob Mackowiak (Chicago White Sox), Julis Matos (San Diego Padres), Tony Cingrani (St. Louis Cardinals). 340 players have continued on to four-year college programs. As a player himself, Steve was named second team All-American Catcher, All-District Catcher and All-Area Catcher.
Being a youth instructor, Head Catching Instructor at Midwest Sports Complex and Academy Director at GrandSlam have kept him busy. Coach Ruzich is particularly known as the Director and Coordinator of parent-child baseball camps locally, which over 1200 participants have attended. Steve also works part time for the Chicago White Sox, instructing in their fundamentals area at home games at U. S. Cellular Field.
Steve completed his master's degree in physical education at Chicago State University.
Coach Steve Ruzich resides in Joliet, Illinois with his wife, Patti and children Timothy, Nathan and Amanda.
---
Marty Joyce — Assistant Coach
Marty is in his fourth season as a Bulldog assistant coach, previously the Head Baseball Coach at Olive-Harvey College. Marty played his collegiate ball at Moraine Valley Community College.
In 2006, he participated in the Little League World Series as a part of Lemont Little League. Marty worked from 2020 to 2022 as Defensive Coordinator for the Gary SouthShore Railcats.
Marty is from New Lenox, IL.
---
Lee Fischer — Batting & Fielding Coach
Coach Lee Fischer enters his seventh season as an assistant coach. Fischer is a former Bulldog shortstop who played on the 2006 team that went 51-12, won 35 games in a row and advanced to the NJCAA Juco World Series. Lee was a first time all American and was named the best defensive player in the nation.
Lee went to the University of Missouri and played two years for the Tigers. After Missouri, Lee signed with the Chicago White Sox and played in their minor league system.
Lee will be the infield coach and works with the hitters.
---