From Bulldog to "The Show"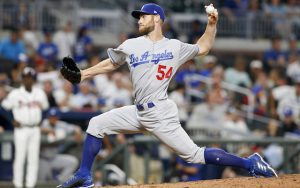 SSC alumnus Tony Cingrani, currently a pitcher for the Los Angeles Dodgers, used what he learned at South Suburban to climb to the pinnacle of the baseball world – the Major Leagues. Cingrani, a 2009 graduate, pitched for the Bulldogs two years and still holds several records for the college.
"Tony was fearless, very confident in his ability, and convinced he would make the majors," said Head Baseball Coach of South Suburban Steve Ruzich.
Under the direction of Coach Ruzich, Cingrani compiled 194 strikeouts, a school record, in his two seasons as a Bulldog. He also holds the school record for strikeouts in a single season with 104. In 2008 his won/loss record was 7-5 with a 1.98 ERA, in 2009 he was 5-5 with a 3.29 ERA. After the 2009 season, Cingrani signed a letter of intent to play baseball at Rice University in Houston, Texas.
In 2011, the left-hander was drafted by the Cincinnati Reds in the 3rd round of the Major League Baseball Amateur Draft.  His professional career includes standout performances like the one for the Cincinnati Reds during the 2013 season. That season he started 18 games for the Reds with a record of 7-4, 2.92 ERA. In 104 innings pitched that season, Cingrani gave up 72 hits, striking out 120 batters, while only walking 43. The next season the Reds put Tony in the bullpen. He adjusted to the role quite well and in 2016 pitched in 65 games, earning 17 saves, while striking out 49 hitters in 63 innings.
Cingrani was traded to the Los Angeles Dodgers in July of 2017. For his career, he has a 12-22 overall record, with an Earned Run Average of 4.01, having pitched in 216 games, totaling 334 innings pitched, striking out 366 batters. He also appeared in three World Series games with the Dodgers in the 2017 MLB postseason.
In the 32 years and counting that Head Coach Steve Ruzich has run the baseball program at South Suburban, 265 of his players went on to play at four-year universities.  Twenty three players were drafted in the Major League Baseball Amateur draft, highlighted by list who made "The Show" which includes, Ron Mahay (Boston Red Sox), Tim Byrdak (Kansas City Royals), Julius Matos (Cleveland Indians) and Rob Mackowiak (Pittsburgh Pirates).