Men's Basketball Coaching Staff
John Pigatti — Head Coach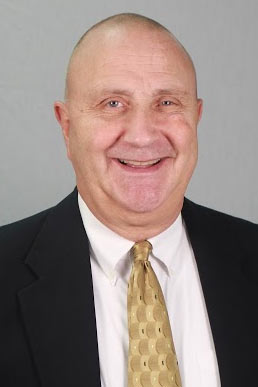 Coach Pigatti is starting his 15th season as head coach of the Bulldogs and has accumulated a tremendous career coaching record of 410-79 (.838).
Pigatti's record in the post season is 54-15. Two of his past four teams placed 3rd at the NJCAA National Championship Tournament. He has had three National-Players-of-the-Year in the last 7 seasons: Courtney Carter (2020), Jovan Mooring (2016), and Michael Harris (2013). Pigatti has also had 31 All Region IV Players, and 11 Region IV Players-of-the-Year. His Bulldogs are only team in the country that has qualified for the National Tournament 10 times in the last 14 seasons (they have also placed 8 times). The 2019-20 team qualified for the National Championship Tournament, but due to Covid-19 the tournament was canceled. In 2011-12 Pigatti's Bulldogs finished 3rd at the NJCAA National Championships as well.
Coach Pigatti has set numerous records as a head coach. He is the only coach in college basketball history (including NCAA, NAIA, and NJCAA) that has had nine 1st Team All-Americans in his first eleven years as a head coach (he has had 13 total All-Americans in 14 years). He has won ten Region IV Championships. His teams have been ranked #1 in the country on numerous occasions. For the first time in school's history, they appeared in three straight NJCAA Division II National Championships during 2007-2009. That feat was accomplished on three occasions: 2011-2014 and 2016-2018. He has had seven teams finish with 30+ wins in his 14 years as a head coach (which also is the first time that was been done in school's history). His teams have been ranked in the top ten every season since he has been at South Suburban College.
Coach also knows how to win on his home court, too. He has complied at 219-14 (.94) home record during his fourteen seasons at South Suburban College, six of his teams have gone undefeated at home during the season.
More importantly, the sophomores Pigatti recruited sign a scholarship to play at a four-year college or university. 77 players in 14 years have gone on to 4-year institutions. He has had Eleven 1st Team All-Americans: Courtney Carter ('20), Rhyss Lewis ('19), Rasheide Bell ('17), Jovan Mooring ('16), Lavell Boyd ('15), Antonio Levy ('14), Michael Harris ('13), James Harris ('11), Tremell Adams ('10) Nick Carey ('09), and Kris Harris ('07). He also has had Ten MVP's of the Regional IV Tournament: Courtney Carter ('20), Jordan Matthews ('18), Rasheide Bell ('17), Jovan Mooring ('16), Antonio Levy ('14), Michael Harris ('13 & '12) Bradley Birton ('09), Larry Swann ('08), and Kris Harris ('07).
Coach Pigatti came to SSC from St. Francis University in Loretto, PA where he was the head assistant men's basketball coach and recruiting coordinator. At St. Francis, Pigatti was an integral part of signing the number one recruiting class in the Northeast Conference. In addition, the 2004-05 season record was the schools' best in 8 years. During the 2003-04 season, Pigatti helped Kent State to a 22-9 final record, a Mid-American Conference (MAC) Eastern Division championship and a berth in the National Invitational Tournament (NIT).
Prior to his one-year stint at Kent State, Pigatti served as an assistant coach at Elmhurst College-IL (1987-89), Creighton University (1989-91), Texas A&M University (1991-92), Western Michigan University (1992-94), Saint Joseph's College-IN (1994-95), the University of Akron (1995-01), and Chicago State University (2002-03).
During Pigatti's tenure as an assistant at Akron, the Zips captured the most MAC wins for any team in the league from 1997-01, including a MAC Eastern Division title in 1998. He helped recruit two Mr. Basketball award winners, and Jimmal Ball, who was voted one of the top 15 freshman players in the country by USA today and ESPN. At Creighton University, he helped lead the Blue Jays to back to back 20-win seasons. Creighton also won the MVC title and advanced to the second round of the NCAA tourney. He also has been the head coach of the Five Star Basketball Camp, where he instructed several top 100 high school players in the country who now play in the NBA. He has instructed at many basketball camps and clinics around the country and abroad.
A 1985 graduate of the University of Dayton with a bachelor's degree in business administration, Pigatti earned a master's degree of business administration from Creighton in 1993. He served as President of the National Assistant Basketball Coaches Committee for six years (1996-01).
Pigatti and his wife, Kimberly, have a daughter Ashley Jo, and a son, Andrew John.
Awards, Honors, & Certifications:
Region IV Coach of the Year: 2020, 2018, 2017, 2016, 2014, 2013, 2012, 2009, 2008, and 2007.
District 3/4 Coach of the Year: 2020, 2018, 2017, 2016, 2014, 2013, 2012, 2009, 2008, and 2007.
Illinois Basketball Coaches Association Coach of the Year: 2020, 2018, 2017, 2016, 2014, 2013, 2012, 2009, 2008, and 2007.
College Insider's Jack Bennet Man-of-the-Year: 2017
Member of the National Association Of Basketball Coaches
---
---
---
---