Ken Crandol — Head Coach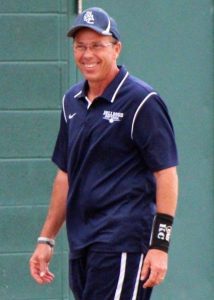 Coach Ken Crandol enters his sixth season with the SSC Bulldogs Softball program. This will be his third season as head coach. While with the Bulldogs, the teams' record has been an impressive 170-76. Ken is very excited about the upcoming season and hopes to continue the Lady Bulldogs success.
Ken grew up participating in multiple sports where he excelled in both baseball and soccer. His baseball experience stretched over 12 years and soccer for 25 years. His competitive nature led him to begin coaching fast pitch softball in 1983. Over the years, he began coaching the Indiana Rebels in 1987 and soon became the owner of the Indiana Rebels fast pitch organization. His Rebels teams enjoyed many state championships and a 2nd place finish in the NSA National Championship in 2006. They made several appearances in the ASA Nationals.
Ken was inducted to the Indiana NSA Coaches Hall of Fame in 2017. His coaching experiences expanded into high school levels where he coached the Hammond Gavit High School softball team for 4 seasons, beginning in 1989. He then coached at Andrean High School beginning in 2009 for 3 seasons. The Andrean Lady Niners made two consecutive appearances in the State Championship final, claiming the title of State Champions in 2012.
Coach Crandol is from neighboring Hammond, IN. where he served 27 and a half years as a firefighter/EMT in the Hammond Fire Department, retiring in January of 2018. Ken's final 10 years was served as a Battalion Chief in the Fire Department. Ken graduated from Hammond High School and then attended Sawyer Business College in pursuit of his Fire Fighting career.
Ken has been married to his wife Lisa for 24 years. They have three children and two grandchildren
---
Dan Sims – Assistant Coach
Coach Dan Sims is looking forward to this year as he enters his first season with the SSC Lady Bulldogs Softball program and believes they have assembled a talented team to have a successful season.
Throughout his softball career, Coach Sims has coached at various levels: from 8U to 18U travel teams, winning Elite tournaments to champion high school squads.
In 2003-2013, Dan started coaching high school softball at Andrean High School in Merrillville, IN, where he enjoyed many successes: two Indiana State championships (2007 and 2012), two state runner-ups (2009 and 2013), and multiple Sectional and Regional championships. In 2014-15, he coached Munster (IN) High School to two Sectional championships. While coaching in Hobart, IN in 2016-17, Hobart High School won it's first sectional championship after a 26-year drought. In 2018, Coach Sims returned to Munster to coach the Mustangs Softball team again until 2021.
Dan attended and graduated from Thornwood High School in South Holland, IL. He then went on to graduate from Purdue University with a degree in Marketing.
He and his wife Elise have three children and currently live in Schererville, IN.
---