Ken Crandol — Head Coach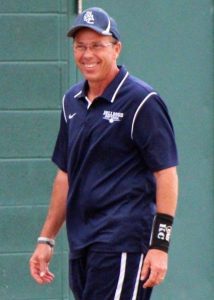 Coach Ken Crandol enters his sixth season with the SSC Bulldogs Softball program. This will be his third season as head coach. While with the Bulldogs, the teams' record has been an impressive 170-76. Ken is very excited about the upcoming season and hopes to continue the Lady Bulldogs success.
Ken grew up participating in multiple sports where he excelled in both baseball and soccer. His baseball experience stretched over 12 years and soccer for 25 years. His competitive nature led him to begin coaching fast pitch softball in 1983. Over the years, he began coaching the Indiana Rebels in 1987 and soon became the owner of the Indiana Rebels fast pitch organization. His Rebels teams enjoyed many state championships and a 2nd place finish in the NSA National Championship in 2006. They made several appearances in the ASA Nationals.
Ken was inducted to the Indiana NSA Coaches Hall of Fame in 2017. His coaching experiences expanded into high school levels where he coached the Hammond Gavit High School softball team for 4 seasons, beginning in 1989. He then coached at Andrean High School beginning in 2009 for 3 seasons. The Andrean Lady Niners made two consecutive appearances in the State Championship final, claiming the title of State Champions in 2012.
Coach Crandol is from neighboring Hammond, IN. where he served 27 and a half years as a firefighter/EMT in the Hammond Fire Department, retiring in January of 2018. Ken's final 10 years was served as a Battalion Chief in the Fire Department. Ken graduated from Hammond High School and then attended Sawyer Business College in pursuit of his Fire Fighting career.
Ken has been married to his wife Lisa for 24 years. They have three children and two grandchildren
---
Katie Crandol – Assistant Coach
Coach Katie Crandol is entering her third season with the SSC Bulldogs.
Katie has been playing softball for over 12 years. Katie played travel softball for the Indiana Rebels since she was 10 years old until she was 18 years old. She also played for her High School team at Andrean High School and won a state championship her junior year. She then went on to play college softball at South Suburban for two years and decided not to go on to play anywhere after that because she wanted to focus on school. While playing at South Suburban, Katie was honored First Team All-Region both years playing.
In addition to Katie serving as the Assistant Softball Coach, she is continuing going to school at Indiana University Northwest pursuing a Bachelor's Degree in Criminal Justice. She will be graduated by the end of the Fall semester in 2018.
She is excited to start the 2017/2018 season and is pushing for the goal to win the Region Championship.
---
Kelsie Brezinski – Assistant Coach
Coach Kelsie Brezinski enters her first year with the SSC Bulldogs Softball program. Kelsie has been involved in this game for well over 14 years. With the experience of playing at the travel, high school, and college level. Kelsie's college career was made up of two years at South Suburban and two years at Calumet College. At SSC, she received first team all-region honors both years and was nominated second team All-American her sophomore year. Her senior season at Calumet College she received the most valuable player award and was apart of the 2016/2017 All-Academic team and 2017 CCAC 2nd team All-Conference.
In addition to Kelsie serving as the Assistant Softball Coach, she recently graduated in 2017 from Calumet College of St. Joseph. She received her Bachelors degree in Criminal Justice.
She hopes to use her knowledge and strong passion for the game to help excel in her young coaching career.