Women's Basketball Coaching Staff
Roslyn Turner — Head Coach
Roslyn Turner is entering her first year as Head Coach of the South Suburban College Lady Bulldogs. Coach Turner has been coaching at the collegiate level for 14 years at schools such as Robert Morris University, Calumet College of St. Joseph in Indiana, Olive Harvey College, Southland College Prep and now South Suburban College. Roslyn was an Assistant for South Suburban for five years under her former coach, Darrell Scott.
Coach Turner is a 1996 graduate from Bloom Trail High School. She excelled in basketball with the honors of All-American at both South Suburban College and Carl Sandburg College. Roslyn then went on to graduate from Calumet College of St. Joseph with a bachelor degree in Business Management.
She spent two seasons in Puerto Rico playing semi-pro and in the National Women's Basketball League (NWBL) for the Chicago Blaze for three seasons.
Roslyn has one son, Kenyon Wallace and one granddaughter Khalani Wallace.
Mycah Brooks — Assistant Coach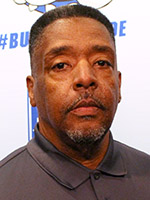 Mycah Brooks Sr. is beginning his first season at South Suburban. Coach Brooks has been coaching for over 19 years, most recently in his second stint as the assistant coach at Seton Academy with head coach Justin Damingo from 2012 until the school closed in 2015.
In his first stint at Seton Academy Coach Brooks was there from 2006-2010 with head coach Ken Stevenson, serving as the assistant varsity and head Sophomore coach. During his tenure at Seton Academy, Coach Brooks played a key role in guiding the 2008-2009 Varsity team to the IHSA class 2A State Championship while making history going undefeated in the Chicago Catholic League.
In between his times at Seton Academy, Coach Brooks was an assistant for the varsity team and head sophomore coach at Urban Prep.
Brooks is currently the Athletic Director at Christ Our Savior Grade School located in South Holland, Illinois and Head of Basketball Operations at the Living Grace Church in Lynnwood Illinois. He is married with four children.
Deborah Scott — Assistant Coach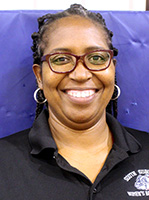 Deborah Scott returns to the sidelines of South Suburban to assist with the Women's Basketball Program. Coach Deb will be responsible for post play and team building. She is the former Head Volleyball Coach for the Bulldogs.
Coach Deb played collegiately at Chicago State University. A 1996 graduate of Chicago State University, Deborah excelled in volleyball (2-year letter winner) and basketball (4-year letter winner). She ended her collegiate career as the 4th leading scorer (1127 points) and the 2nd leading rebounder (709) in Chicago State's history. She has coached for several different summer programs, AAU programs, and grade schools.
Deborah currently resides in Chicago with her two sons, Freddie and Scott and currently works for Chicago Public Schools as an Occupational Therapist.