Classes are offered in a variety of formats. These are sometimes called modes of delivery or course delivery methods. SSC offers options for learning in-person, online, or a combination of both in-person and online. Each method offers students a unique experience and you can select the format that works best for your individual preferences.
Below is information to help you understand the types of formats offered and how to identify what's best for you when you're building your class schedule.
Compare Class Formats
% Of Classes In-Person/On Campus
 Scheduled Class Times
 Same Location as Instructor
 Choice of How to Attend Class
 Suitable for Remote Students
Distance Learning Fee
Tuition Rate
FULLY ON-CAMPUS
In-Person
100%
X
X
Based on Residency
FULLY ONLINE
Virtual (Synchronous)
0%
X
X
X
In-District
Online (Asynchronous)
0%
X
X
In-District
COMBINATION OF IN-PERSON AND ONLINE
Flex
0-100%
Your Choice!
X
Your Choice!
X
X
X
Based on Residency
Blended
25-75%
X
X
X
Based on Residency
Class Format Details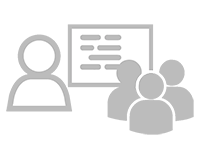 In-Person
Traditional courses are standard in-person courses where the instructor and students gather face-to-face in an on-campus classroom at a scheduled time. Courses with labs may meet for a longer amount of time. All lectures and exams will be in person and on campus.
---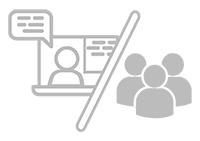 Blended
Courses with a mixture of both in-person and online formats are "Blended." There is a scheduled class time, but you'll spend some days in the classroom, and some days in an online learning space. Blended courses are at least 25% in person, but the exact percentage will vary from course to course. Students can expect that at least 1/4 of the course contact hours are synchronous.
---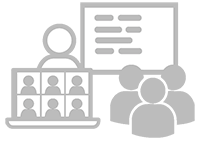 Flex
Courses with a mixture of both in-person and virtual formats in the "Learn Anywhere" format are Flex courses. They are taught from an on-site classroom at a scheduled time and students can attend live in-person or via live webcast technology. Students have the choice how they would like to attend.
---
Virtual
In the "Virtual Instruction" format, the instructor and students meet face-to-face via a live video call at a scheduled time. Classes are synchronous, meaning the classes take place in real-time with the instructor and students interacting at the same time but in different locations.
---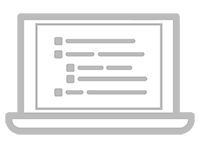 Online
Online classes require no time on campus. Activities are asynchronous, meaning there is no scheduled class meeting time, but there are still due dates for assignments and assessments.  Students can expect 100% of the course contact hours to be online.