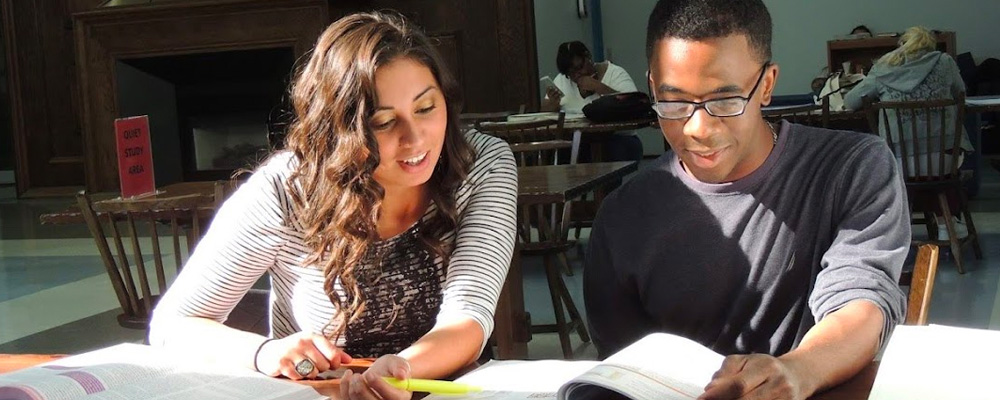 We are now accepting applications for student tutors! Please email William Radtke for more details.
Are You Looking for a Way to Get Better Grades?
The Academic Assistance Center is Here to Help You Succeed! In addition to one-on-one tutoring the AAC offers several other services such as study groups, Placement Review Prep, Structured Learning Assistance (SLA), and Student Success Seminars. Keep scrolling to learn more about all the services we offer.
Tutoring Program
We offer free in-person and online tutoring services to both SSC Students and community members. In-person tutoring is conducted in Rm. 2264 and online tutoring will be conducted over Zoom. Access our AAC Tutoring Program for more information.
Structured Learning Assistance (SLA) Program
The Structured Learning Assistance (SLA) program offers review sessions for students in traditionally "difficult to pass" classes. Review sessions are led by facilitators who have demonstrated proficiency in the subject. Facilitators attend the classes with the students, and schedule review sessions within the students' availability. Students who attend SLA review sessions learn study strategies like note taking, graphic organization, questioning techniques, vocabulary acquisition, and test preparation. SLA review sessions are open to all students in the course.
Structured Learning Assistance (SLA) sessions normally occur in classrooms near the course classroom instead of a learning center. SLA sessions are open to all students in the course. If you attend SLA sessions regularly, chances are you'll earn a better grade. You'll have developed a better understanding of course content as well as more effective ways of studying. This will help you in other classes as well. See our latest brochure on this web page.
Structured Learning Assistance (SLA) Sessions
Student Success Seminars
Student Success Seminars are group sessions about the skills you need to succeed as a student and beyond. Student Success Seminars are conducted each semester by SSC Faculty and Staff on a variety of topics including navigating online courses, staying organized, and time management. Check out our Student Success Seminars web page for information on upcoming as well as recorded sessions for your convenience.
Placement Review Sessions for Incoming Students
SSC requires students who intend to pursue a degree of certificate to take a college placement tests in Reading, English, and Mathematics. The placement exams ensure that all new students are placed into courses which are appropriate to their skill level. If you would like to test your math skills before scheduling your MATH PLACEMENT TEST, try out our math review packet.
The Placement Review Sessions are provided to help students prepare for placement/compass test. All sessions are scheduled between every Fall, Spring, and Summer semester and are held in Room 2264 (Academic Assistance Center) located on the second floor of the Main Campus or in Room 5183 located on the first floor of the Oak Forest Center, 16333 S. Kilbourn Ave., Oak Forest, IL. Contact the Academic Assistance Center for dates and times for upcoming placement review sessions.
Open Study Groups
Open study groups are scheduled each semester for particular subjects or student populations. Students can come and work on their homework and study with their classmates or a tutor. Past examples have included our MTH 095/100 study groups, our statistics study groups, and the SSC Black Men's study group. Smaller study groups (2-5 Students) are available and can be formed by request. A minimum of two students can request a recurring appointment with a tutor for a particular class.
Brainfuse is Always Open to Help You
Brainfuse is the 24/7 live help for select subjects. Brainfuse can be accessed through D2L using the button below.
Additional Tutoring Options
South Suburban College has a variety of tutoring resources to help you succeed!
SSC Math 1:40 Club – Math mentoring club tailored to MTH 093 – 100 classes conducted by our SSC Math Faculty. Email Jennifer Medlen or Diane Grzeczka for more information.
SSC Math Lab – Tutoring for college level math courses conducted by our SSC Math Faculty.
SSC Reading Help Sessions – Reading help sessions conducted by our SSC Reading Faculty.
SSC Writing Center – Aids students, employees and the college community with writing related assistance. Sponsored by the SSC English Department.
SSC Speaking Center – Aids students, employees and the college community with public speaking related assistance. Sponsored by the SSC Department of Communication and Humanities.
Student Responsibilities
You Must Attend Class!
Do not expect the tutor to do your work. You are required to study, complete homework, and identify the problem areas which need clarification before attending the tutoring sessions. It is your responsibility to bring your books and class notes to your tutoring session.
We ask that you respect your fellow students while you take advantage of our services at the Academic Assistance Center. Please take time to review our Academic Assistance Center Student Guidelines.
The AAC is a space for learning and studying. To maintain that space, socialization is not permitted in the AAC. Cell phones should be turned off or set on vibrating alarm. Students must step outside the AAC to take calls.
No music without headphones. Headphones are acceptable as long as music cannot be heard by anyone else.
No food is allowed in the AAC. Only drinks with sealable lids can be consumed in the AAC.
Children under 11 are not allowed in the AAC. Please speak with an AAC full-time staff member to see what accommodations are possible.
The AAC backdoor is not for student use. The backdoor should only be used in emergencies, for deliveries, or for certain individuals with disabilities. Individuals with disabilities must receive permission from the AAC manager beforehand.
All students should familiarize themselves with South Suburban College's Student Codes of Conduct found in the South Suburban College Catalog including, but not limited to, the following:

Refusal to comply with reasonable directions of College officials acting in the performance of their duties.
Disorderly conduct or any conduct considered lewd, indecent, or obscene, including profane or abusive language toward members of College community.
Violation of this code of conduct is considered grounds for sanction against the party or parties involved and, if the situation should warrant, binding over to civil authorities for appropriate action.
There is a limit of one tutor appointment per subject per day per student. If more tutoring is needed, student may wait for the next available tutor.
Appointments are reserved for SSC students only.
Students must present their student ID card when arriving for a tutoring appointment. Appointments and rescheduling are available in person, over the phone at (708) 596-2000 ext. 2397, and online by emailing AcademicAssistanceCenter@ssc.edu.
Tutoring appointments are dependent on a tutor's availability.
A tutoring appointment is available for 1 hour per student per subject per student.
Tutors are not responsible for doing the student's homework. The student must bring textbooks and study his/her own homework.
Students who arrive more than fifteen (15) minutes late will lose their appointment and can get tutoring help on a walk-in basis ONLY (first come, first served) for the rest of the day.
The AAC front desk attendant has the authority to assign a different tutor. The assigned tutor may be subject to change.
We have Equipment Available to Use for Your Success
The Academic Assistance Center has a computer lab with:
21 computers for student and community use.
Speed reading software for Reading class students.
Specialized computer software for Math.
Specialized equipment and software for Students with Disabilities.
2 iMacs with graphic design (Adobe Creative Suite) software
The Academic Assistance Center also have equipment for Students with Disabilities:
An OPTELE 20/20 enlarger and ZoomText are available for the visually impaired.
The KURZWEIL 3000 can read any document or book.
JAWS is a voice activated computer program for the blind and students with a visual impairment.
READ: OUT LOUD reads eBooks out loud.
SPEECH-TO-TEXT program is for vision impaired and special needs students.
We also have a built-in web browser that reads the Internet and adjustable workstations to accommodate wheelchairs are also available.

Remember that our staff is here for YOU.
Stop in or give us a call to find out what we have to offer.