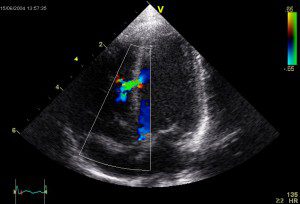 Echocardiography or cardiac sonography, is a medical test that uses sound waves of high frequencies (ultrasonic) to create moving and still images of the heart. These pictures show the size and shape of the heart. They also show how well the heart's chambers and valves and other structures are working. Echocardiography has become an important tool in diagnosing or helping diagnose and so many heart diseases and conditions.
The U.S. Bureau of Labor predicts a growth of the medical sonography industry of 24% above average from 2014 to 2024. Employment growth for sonographers is also growing faster than average. Mean annual salaries is roughly $63,000 or $30 per hour.
Mission
To prepare competent entry-level cardiac sonographers both in diagnostic echocardiographic knowledge and scanning skills.
Student Learning Outcomes (SLOs)
Graduates of SSC Echocardiography Program will be able to:
perform thorough echocardiographic studies with all modalities e.g. two-dimensional, color/Doppler.
apply concepts of ultrasound physics when performing echocardiographic imaging.
obtain quality images with high efficiency.
recognize abnormal echocardiographic findings.
demonstrate appropriate ergonomics when imaging.
communicate with patients effectively.
communicate effectively with doctors and health care staff.
maintain a safe environment for themselves and patients.
demonstrate appropriate critical thinking and clinical judgment.
demonstrate professionalism and willingness to abide by the rules and policies of their workplace.
The Echocardiography AAS Degree from South Suburban College is approved by the Illinois Community College Board (ICCB) and accredited by the Higher Learning Commission (HLC). Graduates from South Suburban College Echocardiography Program will be prepared for licensure to work as entry level diagnostic cardiac sonographers.
Accreditation/Approval Process
The Echocardiography Program is accredited by CAAHEP: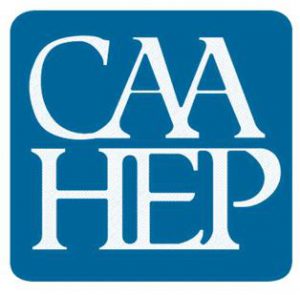 Commission on Accreditation of Allied Health Education Programs (CAAHEP)
25400 US Highway 19 North Suite 158
Clearwater, FL 33763
Telephone: (727) 210-2350
FAX: (727) 210-2354
Website: https://www.caahep.org/
Employment
Employment rate and the national licensing exam results of the Cohort who graduated in May 2018.
| ARDMS and/or CCI exam passing | Employment rate |
| --- | --- |
| 100%* passed | 71.4% |
*Data will be updated quarterly
Program Admission Requirements
The applicant must meet the following requirements:
High school diploma (or GDP) and completion of the following prerequisites with a grade of C or higher:

ENG 101 Composition and Rhetoric
BIO 185 Human Anatomy and Physiology I
FAD 205 Emergency Care and Safety or CPR BLS
Math placement exam
PHY 115 Topics in Applied Physics
HIT 102 Medical Terminology
PHL 102 Humanities requirement
SPE 108 Oral Communication
PSY 101 Intro to psychology
BIO 186 Human Anatomy and Physiology II

A valid copy of your NLN Pre Admission RN Exam results:

Minimal score
NLN Score Report
COMPOSITE: 60th percentile or higher
Once scores are posted, check the section entitled RN Program Applicants to see your results.
VERBAL: 40th percentile or higher
SCIENCE: 40th percentile or higher
MATH: 40th percentile or higher

Submit an SSC application/registration form and forward all high school as well as other college transcripts directly to the Office of Admissions.
Admissions to the Echocardiography Program will be determined by a ranking of the grade point averages (GPA) of the program prerequisite courses. Students will be considered for admissions who have received at least a grade of "C" or better in all program prerequisites and a minimum cumulative GPA of 2.7 or higher (A = 4.0). All final course grades will be validated prior to the start of the program.
Submit an Echocardiography Program Application to the program by mail or in person (Room 4457) no later than May 30th prior to the fall semester anticipating admissions.
You will be notified in writing of your admission status no later than June 15th.
A photocopy of the student's current health care insurance must be submitted to each respective program coordinator in order to participate at any clinical education site. Failure to maintain comprehensive health care insurance will result in the student being immediately withdrawn from the clinical site and thereby receiving a failing grade in the clinical education class. Furthermore, the student will be financially responsible to pay all medical bills and co-payments as a result of injuries or health issues that arise from participation of clinical education programs.
Health requirements: Complete immunization record and TB testing as required by clinical sites should be provided before starting clinical internship. Drug screening will be performed before starting clinical rotation.
Criminal background check: background check is required upon starting clinical training. It is the student responsibility to meet the requirements of the clinical site and potential employer with respect to criminal background.
Be advised that Biology must be completed within the last 5 years to satisfy the program requirements.
Students must finish all prerequisite courses by December prior to the fall semester of the year you are seeking admission. Students must complete all Echocardiography program courses and general education courses with a "C" or better. Once admitted into the Echocardiography Program, students will be asked to complete a criminal background check and a possible drug screening, Students are responsible for these fees. Eligibility of internship sites might be dependent on results of the criminal background and drug screening results.
Admission Decision
As long as your application is submitted prior to the deadline, and you met all the requirements and took all the prerequisites, a ranking score will be calculated based on your GPA, NLN scores, BIO 185 and BIO 186 grades and physics grade. You can calculate your ranking score based on the following chart:
Factor
5 points
10 points
15 points
20 points
NLN exam score percentile
NLN Verbal Percentile
60-70%
40-50%
70-75%
50-69%
76-85%
70-84%
85% or higher for both
BIO 185
C
B
A
BIO 186
C
B
A
PHY 115
C
B
A
GPA
2.7-2.99
3.0-3.29
3.3-3.49
3.5-4.0
NOTE: Orientation lectures are offered twice a year, attendance in both orientations are mandatory. The first orientation is offered November (Last Thursday 9:00 a.m. – 12:00 p.m.) to explain the application process and answer your questions. The second orientation is offered after admission in the program (Last Thursday in July 9:00 a.m. – 12:00 p.m.) to discuss the expectations of the program among other important topics.
Echocardiography AAS Degree (ECG.AAS)
Overview for College Success
Credits
Overview for College Success (OCS 121) is a class that will help you plan and assist you in becoming a better student and support you in your work/life balance. OCS 121 credit is not calculated in the course minimum credit totals listed in this section.
OCS 121
Overview for College Success
1
Prerequisites
Credits
ENG 101
Composition and Rhetoric
3
BIO 185
Human Anatomy and Physiology I
4
BIO 186
Human Anatomy and Physiology II
4
HIT 102
Medical Terminology
1
PHY 115
Topics in Applied Physics
3
SPE 108
Oral Communication
3
General Education Requirements (Prior to entering program)
Credits
PHL 102
Humanities Requirement
3
PSY 101
Introduction to Psychology
3
Semester I – Fall
Credits
ECG 100
Patient Care Skills
3
ECG 101
Echocardio Fundamentals
4
ECG 104
Echo Anatomy and Physiology I
4
Semester II – Spring
Credits
ECG 108
Echo Anatomy II
3
ECG 200
Echo Physics
4
ECG 204
Echo Imaging I
4
Semester III – Summer
Credits
ECG 126
Echo Clinical Education
4
ECG 205
Echo Imaging II
4
Semester IV – Fall
Credits
ECG 127
Echo Clinical Education II
4
ECG 208
Echo Pathology
3
MDR 115
Medical Law & Ethics
3
Semester V – Spring
Credits
ECG 226
Echo Clinical Education III
4
ECG 230
Echo Certificate Review
3
Total Credit Hours:
71
Echocardiography Certificate
Basic Certificate (EKG.BASIC)
Overview for College Success
Credits
Overview for College Success (OCS 121) is a class that will help you plan and assist you in becoming a better student and support you in your work/life balance. OCS 121 credit is not calculated in the course minimum credit totals listed in this section.
OCS 121
Overview for College Success
1
Prerequisites
Credits
ENG 101
Composition and Rhetoric
3
BIO 185
Human Anatomy & Physiology 1
4
HIT 102
Medical Terminology
1
MTH 095
Elementary Algebra
(with a grade of "C' or above, or qualifying score on the Placement test.)
4
FAD-205
Emergency Care and Safety
(or an Active CPR BLS Card)
2
Fall
Credits
ECG-100
Patient Care Skills
3
ECG-101
Echocardiography Fundamentals
4
ECG-104
Echo Anatomy & Physiology
4
ECG-108
Echo Anatomy II
3
ECG-102
EKG Clinical
2
MDR-115
Medical Ethics
3
Total Credit Hours:
27