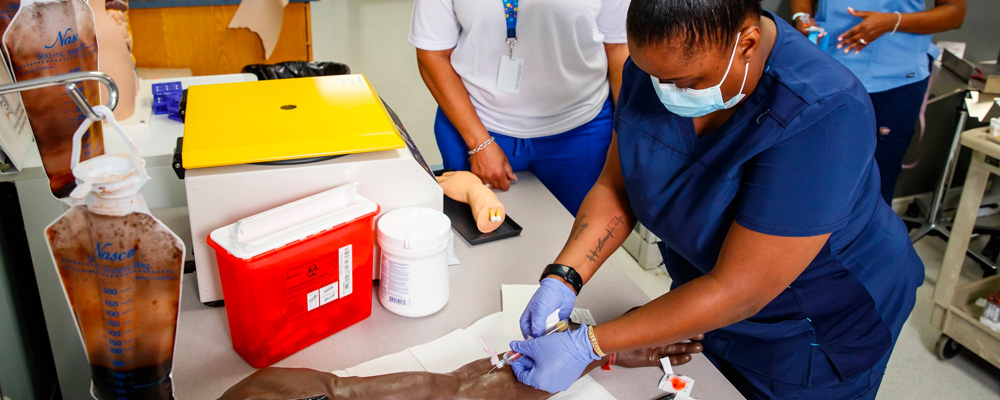 As a member of the health care delivery team, the phlebotomist generally works in a clinical laboratory under the supervision of a clinical laboratory technologist. The phlebotomist is primarily responsible for collecting blood specimens from patients/clients for the purpose of laboratory analysis. The phlebotomy courses are designed to provide students with information about the health care delivery system; collection of materials and equipment; venipuncture and capillary puncture techniques; specimen transport and processing techniques; quality assurance and safety techniques; basic concepts of communications, and medical and legal implications of blood collection. Students will be required to complete 72 hours of classroom and 100 hours of clinical experience in a health care environment. Effective Fall 2007, a criminal background check from a designated agent and/or a drug screen is required to complete the internship course.
Mission
The mission of the Phlebotomy Certificate Program at South Suburban College is to prepare individuals for entry-level employment in a clinical lab or hospital setting. We strive to provide students from diverse backgrounds, the opportunity to gain the knowledge and technical skills necessary to provide the health care needs of the community.
Program Goals
With faith in both faculty and the Advisory Committee, we set forth the following goals for the Phlebotomy Program:
To provide a structured curriculum that successfully prepares entry-level phlebotomists.
To enhance problem solving and critical thinking skills of the student.
To prepare students for National Credentialing Exam.
To empower students/graduates to continuously improve professionally, and seek various educational advancement.
To graduate students who embrace the holistic concern of others.
Approval Process
Upon successful completion of this course, students are eligible to take the national certification examinations given by either the American Medical Technologist (AMT), National Center for Competency Testing (NCCT) or the American Society of Clinical Pathologists (ASCP), Board of Registry.
Student Learning Outcomes (SLOs)
Based on the Standards and Guidelines established by National Accrediting Agency for Clinical Laboratory Sciences (NAACLS) we set forth the following Student Learning Outcomes for the Phlebotomy Program:
Demonstrate knowledge of the health care delivery system and medical terminology;
Demonstrate knowledge of infection control and safety;
Demonstrate basic understanding of the anatomy and physiology of body systems and anatomic terminology in order to relate major areas of the clinical laboratory to general pathologic conditions associated with the body systems;
Demonstrate basic understanding of age specific or psycho‐social considerations involved in the performance of phlebotomy procedures on various age groups of patients;
Demonstrate understanding of the importance of specimen collection and specimen integrity in the delivery of patient care;
Demonstrate knowledge of collection equipment, various types of additives used, special precautions necessary and substances that can interfere in clinical analysis of blood constituents;
Follow standard operating procedures to collect specimens via venipuncture and capillary;
Demonstrate understanding of requisitioning, specimen transport and specimen processing;
Demonstrate understanding of quality assurance and quality control in phlebotomy;
Communicate (verbally and nonverbally) effectively and appropriately in the workplace.
SSC Phlebotomy Program Statistics from 2019-2021
Graduation Rates:
100% graduated 2019-2021.
National Certification Pass Rates:
84% of our graduates were certified by ASCP between 2019-2021.

88% of our graduates were certified by American Medical Technologists (AMT) between 2019-2021.

Placement Rates:
86% of our graduates found employment or returned to school between 2019-2021.
Admission Process
Submit an SSC Application form and forward all high school, as well as other college transcripts directly to the Office of Admissions.
Submit the Phlebotomy Program Application to the Health Professions Office, room 4457, no later than June 1st for Fall Admission and no later than Nov. 1 for Spring Admission.
Priority for admission will be given to applicants who meet the published deadline date. Admission to the College does not guarantee admission to the program
Admission Criteria
Students must earn a minimum grade of "C" or better in BIO 115-Human Body Structure* or an equivalent human anatomy course. No student will be considered for admission to the Phlebotomy Program unless they have a minimum cumulative grade point average (GPA) of 2.00 (A=4.00).
Be advised that Biology must be completed within the last 5 years to satisfy the program requirements. However, with appropriate documentation this may be reviewed.
Specific Admission Requirements
To be eligible for PHB 102, PHB 101 must be completed with a grade of "C" or better while maintaining a cumulative grade point average of 2.0.
Students accepted for PHB 101 and PHB 102 must:

All students must be certified in CPR for Health Care Providers and hold a current card throughout the entire program.
Submit a completed health-physical form PROVIDED by South Suburban College that documents immunity for mumps, measles, varicella, diphtheria, tetanus, tuberculosis and hepatitis B (waiver.)
Show proof of health insurance coverage.

Due to the nature of the clinical rotations, most assignments are for the daytime shifts. Clinical rotation assignments are at the discretion of the program coordinator.
Students are responsible for transportation to and from the clinical affiliate.
A photocopy of the student's current health care insurance must be submitted to each respective program coordinator in order to participate at any clinical education site. Failure to maintain comprehensive health care insurance will result in the student being immediately withdrawn from the clinical site and thereby receiving a failing grade in the clinical education class. Furthermore, the student will be financially responsible to pay all medical bills and co-payments as a result of injuries or health issues that arise from participation of clinical education programs.
South Suburban College Phlebotomy Program policy and procedures are covered in the Phlebotomy (PHB) Student Guide. Copies of the PHB Student Guide are accessible for all SSC students and Faculty in the office of Allied Health & Career in Room 4457.
PLEASE NOTE: This program is not financial aid eligible.
Additional Costs
In addition to tuition and student fees, additional expenses include the following (all costs are approximate):
Phlebotomy textbooks   $500
Uniforms   $100
Background Check and Urine Drug Screen   $66
Fingerprinting   $40
Lab Fees   $250
Overview for College Success
Overview for College Success (OCS 121) is a course is designed to assist students in the navigation of becoming successful in college and life. Major topics include setting academic, career and personal goals; effective communication strategies; study skills; critical thinking; self-discovery; and learning styles. In addition, this course delves into topics such as stress management, diversity and other well-being topics. Students will develop educational and career plans, learn to utilize college resources and receive extensive help in course planning. OCS 121 credit is not calculated in the course minimum credit totals listed in this section.
Students must take OCS 121 if they meet one or more of the following:
First time degree seeking students.
Transfer student with less than 12 credit hours and no evidence of similar course on transcript.
Registering for 6 or more credits.
Test into 2 or more developmental classes.
Currently does not have OCS credit or registered for OCS.
Phlebotomy Certificate (PHB.BASIC)
South Suburban College Phlebotomy Program policy and procedures are covered in the Phlebotomy (PHB) Student Guide. Copies of the PHB Student Guide are accessible for all SSC students and Faculty in the office of Health Professions in room 4457.
Overview for College Success
CREDITS
OCS 121
Overview for College Success
1
Prerequisites
BIO 115
Human Body Structure
4
HIT 102
Fundamentals of Medical Terminology
1
Semester 1
PHB 101
Phlebotomy/Health
4
HLT 105
Professionalism in Health Care
3
Semester 2
PHB 102
Phlebotomy Internship
2
Minimum for Certificate:
14