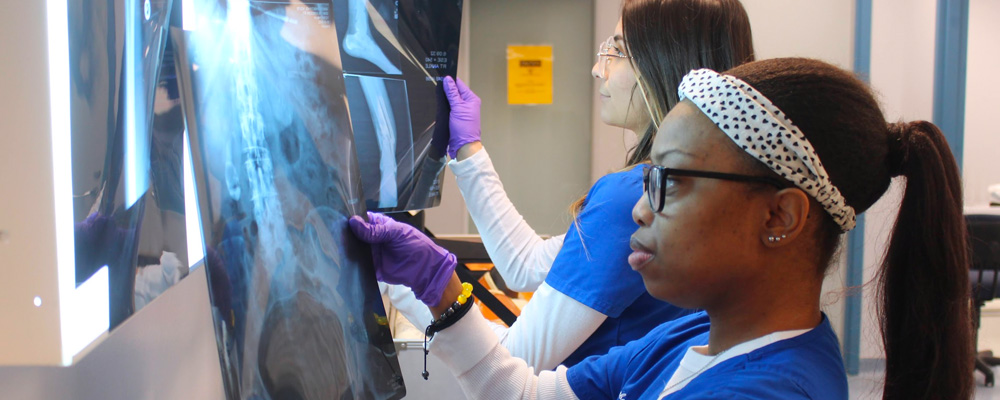 The Radiologic Technology Program is approved by ICCB and the Illinois Board of Higher Education. In addition, the program is Accredited by the Higher Learning Commission (HLC). This full-time accredited program prepares men and women to function effectively as entry level staff radiographers. The program includes both theoretical and practical courses as well as clinical education experiences in hospitals assigned by the program coordinator.
A.A.S. Degree
Students must finish all prerequisite courses by December prior to the summer semester of the year you are seeking admission. The Radiologic Technology Program is only a full-time program.
Additional Costs
In addition to tuition and student fees, additional expenses include the following (all costs are approximate):
Rad Tech textbooks $900
Uniforms $100
Markers $15
Identification Tags $5
Lab Fees $250
Malpractice Fees $100
HESI Exam $45
Current Program Affiliated Hospital and Medical Centers
Ingalls Memorial Hospital, One Ingalls Drive, Harvey, IL 60426
Ingalls Care Centers located in: Calumet City, IL Flossmoor, IL Tinley Park, IL
Roseland Community Hospital 45 W 111th St, Chicago, IL 60628
St. Catherine Hospital, 4321 Fir Street, East Chicago, IN 46312
St. James Hospital Medical Center, Chicago Road at Lincoln Hwy, Chicago Heights, IL 60411
St. James/Olympia Fields Osteopathic Medical Center, 20201 Crawford Ave., Olympia Fields, IL 60461
Cooperative Agreements
For students participating in Cooperative Agreements with Joliet Junior College (JJC), Kankakee Community College (KCC), Moraine Valley Community College (MVCC) and Prairie State College (PSC) the general education requirements are the following.
SSC
JJC
KCC
MVCC
PSC
BIO 102/105
BIO 104/151
BIOL 1514
BIO 102/111
BIOL 100/115
BIO 185
BIO 250
BIOL 2644
BIO 180
BIOL 221
BIO 186
BIO 251
BIOL 2654
BIO 181
BIOL 222
ENG 101
ENG 101
ENGL 1613
COM 101
ENG 101
FAD 205
HPR 207
PHED 1942
PEH 170
FRESP 101 S1
HIT 102
Not Offered
HLTH 1312
(HIT 103)
MRT 110
(HIT 103)
Not Offered
MTH 095
MATH 094
MATH 1414
MTH 095
MATH 090
MTH 100
MATH 098
MATH 1424
MTH 098
MATH 095
PHY 115
PHYS 103
PHYS 1514
PHY 101
PHYSI 101
PSY 101
PSYC 101
PSYC 1813
PSY 101
PSYCH 101
SPE 108
SPCH 101
SPCH 1553
COM 103
COMM 101
More About the Rad Tech Program
SSC Radiologic Technology Program
Questions About the Program?
If you have questions about the Radiologic Technology Program at SSC that weren't answered above, fill out this form and someone will get in touch with you.
John McGreevy
Radiologic Technology Program Coordinator
(708) 596-2000 ext. 2473
To make an appointment concerning Allied Health Careers, please contact the CAREER & COLLEGE SUCCESS CENTER at (708) 210-5724.