The Lee E. Dulgar Gallery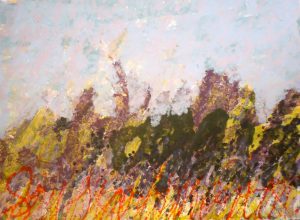 "Landscaper's Language"
An exhibition of pulp paintings by artist Dawn Diamantopoulos
Now through April 25th
Reception: Monday, April 23rd  at 12:30 pm.
Dawn was raised in Pennsylvania and received a BFA in Fine Arts from Pratt Institute in Brooklyn, NY. She relocated to Southern California, continuing her drawing, painting, and photographing. Her "real job" eventually brought her to Chicago, where she stopped creating artwork and started creating a family with her husband and two sons. In 2009, she began painting, then mixed media work and, more recently, a return to her printmaking roots. She makes art every single day.
The Dorothea Thiel Gallery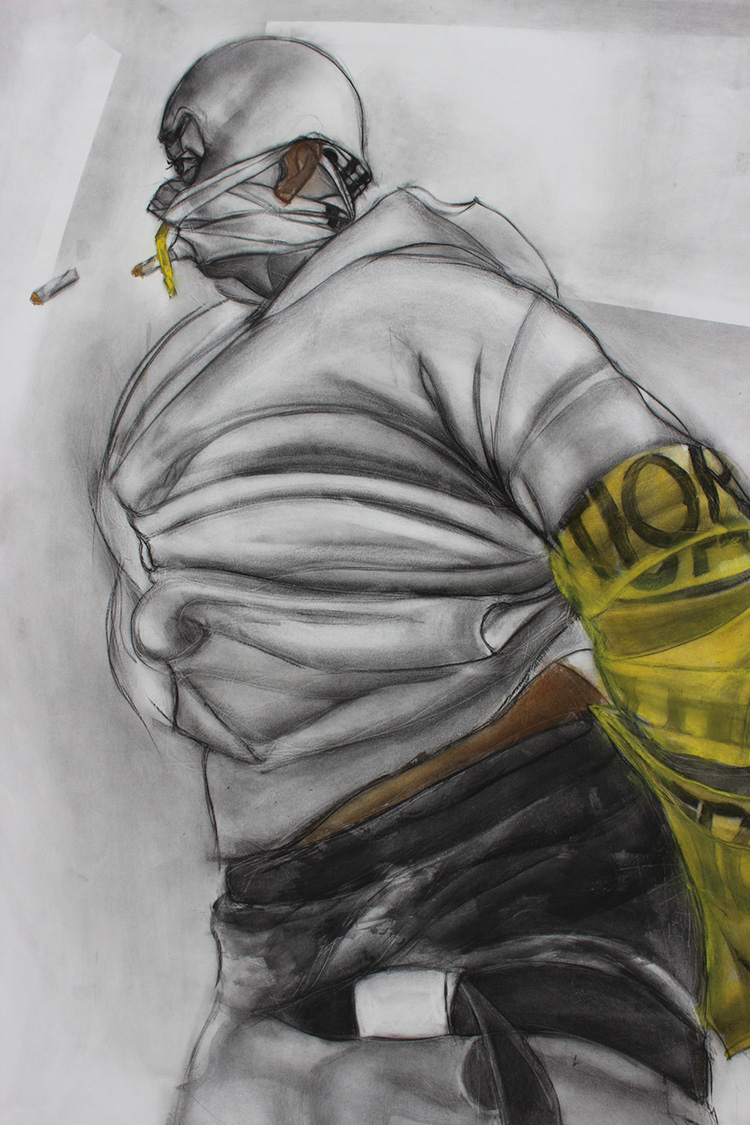 "Jesse Howard"
The exhibition by the artist Jesse Howard
March 9 – April 16
Lecture and Reception:Tuesday, March 20th at 1:00 pm.
Since the 1980's, Jesse Howard's socially-concerned drawings have focused on the plight of the homeless and the disenfranchised, particularly African Americans in urban environments. Informed by his own unsettling upbringing on Chicago's West side and his lived experience as a black man, Howard is sensitive to the way these populations are viewed, treated and often dismissed.
Produced in charcoal, watercolor and collage, his figures are typically distorted, reflecting the pressure and anxiety the individuals feel inside as well as the perceptions and expectations imposed upon them by society. In addition, the physical presence of urban life is often evident through bits of newspaper, receipts or various other scraps affixed to the surface of the portraits.
"In The Loop Quick Looks-Art Chicago-Jessie Howard" – WYCC PBS Chicago
The Photo-Four Gallery
"The Persistence of Vanishing Things"
An exhibition of photographs by Hillary Johnson
April 4th through 23rd
Closing Reception: April 23rd at 12:30 pm.
Hillary Johnson's work has been represented by Visions and Gamma Liaison, and she acted as an artist in residence at Polaroid Corporation. Her work appears around the globe in corporate and private collections; magazines and newspapers. Now based in Chicago and working as a documentary and fine art photographer.
"The passage of time within different frameworks is central to my work. I'm especially concerned with the existential challenges central to the human experience of time; that fragile, ephemeral river of fleeting, irretrievable moments, each as delicate as a bubble."