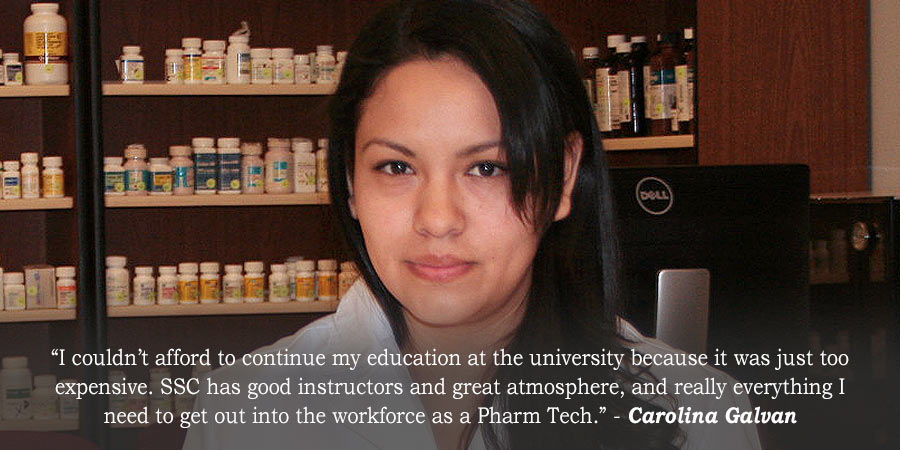 The Program
Technicians assisting pharmacists in the preparation and dispensing of medications can be trained through this ASHP/ACPE-accredited certificate program, which now offers a 16 week PHT-Basic program, which would allow candidates to sit for their certification exam and be nationally certified in just 1 semester. The PHT-Certificate program includes training in aseptic IV preparation, medication order processing, inventories, packaging, compounding, use of a prescription balance, and computers. Other pertinent courses are pharmacy math, pharmacy law, pharmacology, and pharmacy operations. Our most popular 16 week (1 semester) Basic-Certificate program, can be taken either on a part-time or full-time basis since the courses in this ASHP/ACPE accredited program are offered in the evening. Students are admitted to the Pharmacy Technician Program each semester. Pre-admission requirements can be taken at any time.
The accredited program prepares students to be employed in various types of practice settings, including retail and hospital. Students who successfully complete the 16 week Basic-Certificate program will be eligible to sit for their national pharmacy certification exam and become a certified pharmacy technician.
Once the student has completed the Basic Certificate in the Pharmacy Technician Program, and is interested in working at more of an institutional or hospital setting, entry into our Full Certificate program may be requested. Additionally, they may be able to obtain their Associate's Degree in General Studies. This degree may or may not transfer to a senior college or university. An SSC counselor or the PHT program coordinator should be contacted for more info on this Associates Degree in General Studies.
A grade of "C" or better is required in the PHT program and general education courses. In addition to the coursework, students perform 150 to 300 supervised hours in many pharmacy settings. For students with no prior employment in a pharmacy, the internships will require an equal number of hours in a community and a hospital pharmacy. If a student is employed in a pharmacy, the internships will be customized to recognize this previous experience. With the approval of the program coordinator and the academic administrator, currently-employed pharmacy technicians may be granted credit for up to 75 internship hours towards completion of the appropriate internship course.
The States of Illinois and Indiana require a pharmacy technician license prior to the beginning of the internships. The license application can be obtained from the program coordinator or from the Illinois or Indiana State Board of Pharmacy websites. Applicants must have a background check, drug screening and possibly a fingerprint check as well. Please note that it takes approximately eight weeks to receive this license from the states.
Due to the nature of internships, most assignments are scheduled for daytime shifts. Internship assignments are at the discretion of the program coordinator/instructor. Students are responsible for transportation to and from the internship sites, and must purchase a white lab jacket for use in both the lab classes and the internships.
Completion of the Pharmacy Technician Certificate Program does not fulfill the pre-pharmacy admission requirements for the senior college/university pharmacy programs. Please contact the Transfer Center or the Pharmacy Technician Program Coordinator for additional information on the prerequisites needed to apply to a college of pharmacy.
Mission
The Pharmacy Technician Program is to provide appropriate and timely education and training to qualified candidates, so that upon completion of the program, these pharmacy technicians can competently assist pharmacists in the provision of pharmacy services to help meet the healthcare needs of the public.
Student Learning Outcomes (SLOs)
The student will:
State the objectives listed in the Pharmacy Technician Model Curriculum as identified by the American Society of Health-System Pharmacists (ASHP), the only accrediting body for Pharmacy Technician Program in the United States.
Differentiate between the educational preparation, clinical roles and responsibilities, and practice laws pertaining to the pharmacist and the pharmacy technician.
Describe the Pharmacy Technician Certification Board (PTCB) and its national exam process.
Explain pharmacy terminology with respect to common dosages, abbreviations, and routes of administration.
Apply pharmacy calculations to various medication orders/prescriptions.
Discuss laws affecting pharmacy practice.
Interpret medication orders and prescriptions.
Describe the important factors that affect drug activity.
Identify pharmacy references available in practice settings to answer medication related questions.
Identify pharmaceutical compounding equipment.
Relate the importance of aseptic technique to intravenous compounding.
Identify the major causes of medication errors.
Demonstrate an understanding of pharmacy purchasing and inventory control.
Differentiate between institutional, ambulatory, home care, mail service and managed care pharmacy practices.
Examine financial issues affecting pharmacy practice including third party programs, online adjudication, rejected claims, and management company audits.
Illustrate how good interpersonal skills lead to better customer/patient services.
Partake in a site visit and compare the operational systems of organized pharmaceutical facilities.
Discuss the various career opportunities for the Pharmacy Technician.
Application Process for the Pharmacy Technician program:
Submit an SSC application and forward all official high school or HSE transcripts as well as other college transcripts directly to the Office of Admissions. Please note that admission to South Suburban College does not necessarily guarantee acceptance to the Pharmacy Technician Program.
Submit the Pharmacy Technician Program Admission Application form to the Program at any time, but preferably no later than November 15th for Spring admission or May 1st for Fall admission, please contact the program coordinator to see if there are any available seats left.
A photocopy of the student's current health care insurance must be submitted to the program coordinator in order to participate at any clinical education site. Failure to maintain comprehensive health care insurance will result in the student being immediately withdrawn from the clinical site and thereby receiving a failing grade in the clinical education class. Furthermore, the student will be financially responsible to pay all medical bills and copayments as a result of injuries or health issues that arise from participation of clinical education programs.
A special tuition rate exists for the Indiana residents, Chicago residents, and other cooperating community college students who enroll in the SSC Pharmacy Technician program.
Admission Criteria
Admission to the Pharmacy Technician Program requires meeting with the program coordinator and successful completion of all developmental course(s) if indicated on the placement test in Reading, English and Math.
Prior to scheduling an appointment with the program coordinator, a potential student should take the placement test and/or submit transcripts of previous completed coursework. If the student completed Elementary Algebra (or higher) at another college with a "B" or better within the last three (3) years, proficiency in Elementary Algebra has already been shown and the prerequisite would be met.
Prior to enrolling in the Pharmacy Technician Program, students are advised to review the applicable licensure procedures and requirements and state laws of the pharmacy profession to ensure that they are eligible to receive a license for the SSC Pharmacy Technician Program. Eligibility for licensure may be limited by the results of a criminal background investigation. A drug screening and CPR certification are required for the PHT internship and may be required by most pharmacy employers. Any defaults on college loans would mean the future loss of the pharmacy technician license.
Occupational Description
With the changing role of the pharmacist and the evolution of the national health care services, the demand for more educated and trained pharmacy technicians to assist pharmacists in the preparation of prescriptions has increased. The drug preparation duties, performed by the technician under the direct supervision of a registered pharmacist, may include interpreting prescription orders, maintaining patient records, packaging and labeling medications, maintaining drug supply, inventory, billing and crediting patients, handling automation, compounding medications, preparing sterile products, and performing computer entries.
Employment Characteristics
Pharmacy technicians work in a variety of health care settings such as hospitals, community pharmacies, long term care facilities, nuclear pharmacies, home health care agencies, clinic pharmacies, mail order pharmacies and drug wholesalers. The job prospects for pharmacy technicians are excellent. The median annual wage was $32,700 in May 2018. The median wage is the wage at which half the workers in an occupation earned more than that amount and half earned less. The lowest 10 percent earned less than $22,740 and the top 10 percent earned more than $48,010, based on data from the Bureau of Labor Statistics. Salaries and benefits vary according to experience, ability, geographic location and type of pharmacy practice. Completion of the program does not guarantee employment.
Gainful Employment Information
Accreditation and Licensure
The pharmacy technician program is fully accredited by the American Society of Health-System Pharmacists (ASHP) located at 7272 Wisconsin Avenue, Bethesda, MD 20814 and the Accreditation Council for Pharmacy Education (ACPE) located at 135 South LaSalle Street, Suite 4100, Chicago, IL 60603. ASHP/ACPE's phone number is (301) 657-3000. The Pharmacy Technician Program is recognized as an approved training program by the Indiana State Board of Pharmacy. Both the state of Illinois and the state of Indiana require a pharmacy technician license for internship and employment in a pharmacy. Requirements to obtain this license vary in both states.
Please note processing of the State license/approval takes approximately eight weeks.
Students must complete all PHT program and general education course requirements with a "C" or better.
Suggested Sequence for Full-Time Students
PHT Certificate
Overview for College Success
Credits
OCS 121
Overview for College Success
1
Overview for College Success (OCS 121) is a class that will help you plan and assist you in becoming a better student and support you in your work/life balance. OCS 121 credit is not calculated in the course minimum credit totals listed in this section.
Prerequisite Courses
HS Diploma and placement tests (Reading, English and Math)
Semester 1 PHT-Basic
Credits
PHT 100
Pharmacy Technician Orientation [1]
3
PHT 101
Pharmaceutical Mathematics

[3]

3
PHT 102
Pharmacy Operations I
3
PHT 104
Pharmacology I
3
PHT 105
Pharmacy Technician Internship I [2]
1
PHT 118

SPN 115

OTC, Herbal and Alternative Therapy
OR
Spanish for Health Care Providers I
3
Total for Basic Certificate (including prerequisites):
16
Semester 2 – PHT Certificate
Credits
PHT 108
Pharmacy Operations II
3
PHT 103
Sterile Products
3
PHT 107
Pharmacy Law
1
PHT 106
Pharmacy Technician Internship II [2]
2
PHT 109
Pharmacology II
3
SPE 108

COM 106

Oral Communications
OR
Interpersonal Communications
3
Total for Certificates (including prerequisites):
31
Optional CourseWork
Credits
PHT 111
Pharmacy Informatics (Requires approval of coordinator)
3
PHT 120
Clinical Pharmacy Technician (Requires approval of coordinator)
3
Short Course Option
Credits
PHT 115
Fundamentals of Pharmacy Technician Practice
6