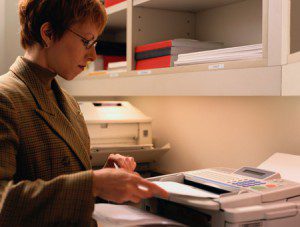 The Office Administration & Technology program is a certificate program that provides training in essential secretarial skills needed by today's office professional. This program has been articulated with some area high schools. Refer to page 31 for more information.
Mission
The Office Administration & Technology program at South Suburban College is designed to prepare students for a careers or promotional opportunity in the field of secretarial services and/or administrative support. Students are also prepared to take the industry recognized Microsoft Office Specialist certification exam.
Our vision is to maximize student learning through solid instructional methods to help them gain the secretarial/administrative skills needed to work in a professional business environment. Student will be better prepared to enter into a four year university or increase their job opportunities.
Student Learning Outcomes (SLOs)
provide instruction on the fundamentals and advanced features of Microsoft Office (Word, Excel, PowerPoint, Access, Outlook, SharePoint).
provide instruction on the fundamentals of desktop publishing.
understand the basics of English sentence structure, punctuation, business vocabulary, and spelling.
further develop the ability to communicate effectively in the business environment.
develop human relations skills and understand how to be successful in a diverse workplace.
learn how to effectively use technology to process information.
Administrative Support (OAT.CERT.ADMIN)
Overview for College Success
Credits
Overview for College Success (OCS 121) is a class that will help you plan and assist you in becoming a better student and support you in your work/life balance. OCS 121 credit is not calculated in the course minimum credit totals listed in this section.
OCS 121
Overview for College Success
1
Credits
OAT 128
Word
3
OAT 132
Access
3
OAT 143
Excel
3
OAT 173
Internet Applications
3
MIS 101
Computer Literacy and Applications
3
ACC 120
Financial Accounting
4
OAT 101
Document Formatting I
3
OAT 202
Document Formatting II
3
OAT 155
PowerPoint
3
OAT 170
Business English
3
OAT 172
Business Communication
3
OAT 201
Administrative Support Procedures
3
OAT 115
Outlook
1
OAT 116
Sharepoint
1
OAT 135
Fundamentals of Desktop Publishing
3
Total Credit Hours
42
Basic Certificates
Basic Office Skills (OAT.BASIC.OFF)
Credits
OAT 202
Document Formatting II
3
OAT 128
Word 2013
3
OAT 170
Business English
3
MIS 101
Computer Literacy and Applications
3
Total Credit Hours
20
Microsoft Office Suite Tools (OAT.BASIC.OFFSUITE)
Credits
MIS 101
Computer Literacy and Applications
3
OAT 128
Word
3
OAT 132
Access
3
OAT 143
Excel
3
OAT 155
PowerPoint
3
OAT 115
Outlook
1
OAT 116
Sharepoint
1
OAT 135
Fundamentals of Desktop Publishing
3
Total Credit Hours
20