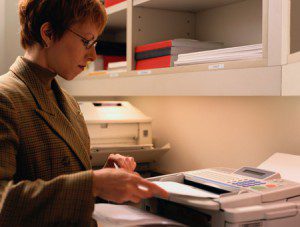 Administrative assistants act as support to their supervisor and are considered to be a very valued member of the office team. They have an increasingly vital and skilled role in today's and tomorrow's office. Some of the tasks they perform include preparing reports and presentations, contributing to project teams and planning meetings and events. Administrative assistants must be very computer literate and know how to use sophisticated software.
What will I learn in class?
Office Administration and Technology offers a two-year Associate of Applied Science degree that will prepare students for both entry-level positions and promotions. Students will receive instruction in the most recent release of software, office procedures, document formatting, records management, business communications, Internet navigation and Web Page authoring.
Students majoring in Office Administration and Technology may select from different areas of specialization including Administrative Support–Corporate, Administrative Support Medical, and Certified Professional Secretary.
Office Administration and Technology also offers a number of certificates and short-term certificates.
What is the employment outlook?
According to statistics from the U.S. Bureau of Labor Statistics, there currently are over three million secretaries/administrative assistants employed in the United States. There are over a million clerical supervisors/administrative managers. The national outlook for employment is excellent. Salaries and benefits vary according to experience, education, skills, company size and geographic location.
Corporate Records/Information Management employees are employees who help to control the life cycle of recorded information from the creation of a record to its ultimate disposition or permanent storage.