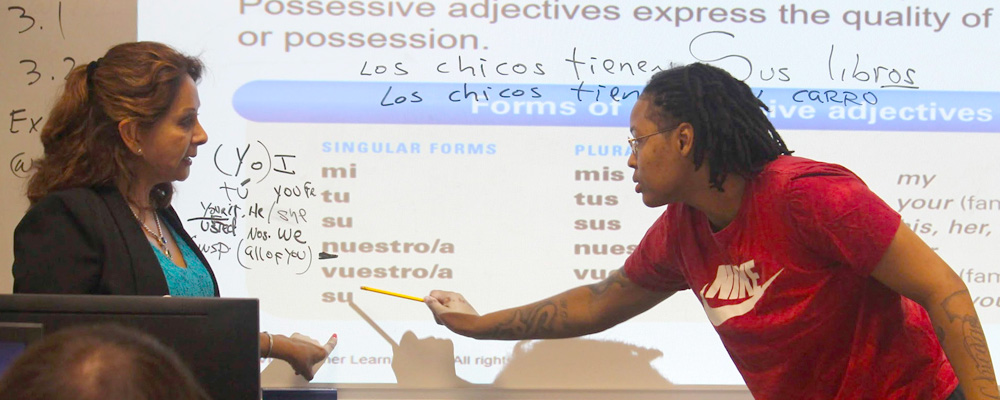 The Spanish Department at South Suburban College (SSC) offers a variety of courses including Elementary/Intermediate Spanish, Conversational Spanish, Spanish/Latin American Literature and Culture, Spanish for Health Care Providers, and Spanish for Spanish Speakers. Most classes offered include a language lab component where students get extra practice with speaking, listening, and writing, and can submit assignments remotely online.
Mission
The mission of the Spanish Department at South Suburban College is to provide students with the linguistic tools to function in Spanish in today's society. Students will be prepared for active and respectful engagement in the Spanish-speaking world within the United States and abroad as SSC students become global citizens.
Student Learning Outcomes (SLOs)
Students who complete courses through Spanish 204 can demonstrate an intermediate level of proficiency in Spanish in speaking, writing, listening and reading.
Students will be able participate in most informal and some formal conversations on topics related to school, home, and leisure activities. They will also speak about topics related to employment, current events, and matters of public and community interest.
Students will be able to meet basic work and/or academic writing needs. They will be able to demonstrate the ability to narrate, describe and express viewpoints about familiar topics
Students will be able to understand short conventional narrative and descriptive texts (spoken and/or written) such as descriptions of persons, places, and things, and narrations about past, present, and future events with a clear underlying structure.
Students will demonstrate knowledge and understanding of Spanish and Latin American cultures including:

Recognize and describe the historical, social, economic, and political forces that shape society in the target culture;
Analyze and critique the aspects of the target culture (film, literature, art, popular culture, media) within their context
Recommended AA Transfer Curriculum for Spanish
This is only a suggested transfer program and might not be appropriate for every student. Some four-year institutions accept more than 62 credit hours in transfer to fulfill requirements in Spanish. Consult the Transfer Center for help in selecting courses appropriate for the program at the college or university where you plan to transfer.
Faculty are available during scheduled office hours to advise students about their courses and program. Peruse some of the offerings in the Department of Communications and Humanities.
All full-time transfer students are required to take OCS 121.
Overview for College Success
Credits
Overview for College Success (OCS 121) is a class that will help you plan and assist you in becoming a better student and support you in your work/life balance. OCS 121 credit is not calculated in the course minimum credit totals listed in this section.
OCS 121
Overview for College Success
1
Minimum General Education (39)
Communications (9)
Semester Hours
ENG 101
Composition and Rhetoric
3
ENG 102
Composition and Research
3
SPE 108
Oral Communication
3
Humanities and Fine Arts (9)
ENG 206

ENG 207
World Literature I
AND/OR
World Literature II
3-6
GROUP II
Humanities Elective
Students earning an Associate degree must meet the requirement for coursework on improving human relations as defined in Public Act 87-581.
3-6
Social and Behavioral Science (9)
GEO 101
Introduction to Geography
3
ANT 101
Anthropology
3
GROUP III
Social Science Elective
Students earning an Associate degree must meet the requirement for coursework on improving human relations as defined in Public Act 87-581.
9
Mathematics (3)
MTH 115

MTH 126

GROUP IV
General Education Mathematics
OR
Fundamentals of Statistics
OR
Mathematics Elective
3
Physical and Life Science (7-8)
GROUP V
Physical and Life Science Elective (Must include one lab)
7-8
Area of Concentration/Electives (25)
SPN 101
Elementary Spanish I
4
SPN 102
Elementary Spanish II
4
SPN 203
Intermediate Spanish I
4
SPN 204
Intermediate Spanish II
4
Consult the Transfer Center for help in selecting courses.
Minimum for AS Degree

62