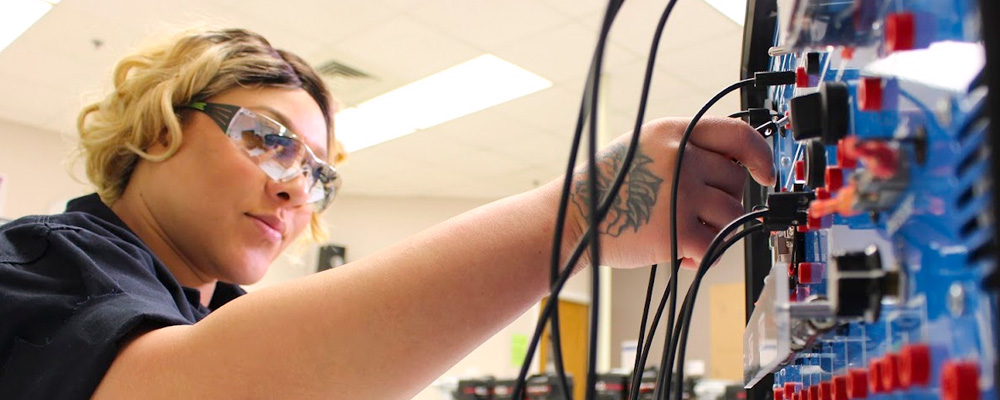 Manufacturing companies in our region are expanding and hiring skilled employees, both as new hires with new skills and to replace retiring workers.
Manufacturing is an excellent career choice, contrary to the belief that it is dirty, dangerous, and dying. With an annual average compensation of over $77,000, according to the National Association of Manufacturers (NAM), it is a well-kept secret. What is key is having the right skills!
South Suburban College has certificates and classes that help prepare you for a variety of jobs and a solid career in the vast field of manufacturing. These certificate programs are designed to build core competencies in manufacturing production and/or mechanical repair to prepare the student for internships and entry-level positions in manufacturing. All students must demonstrate a minimum math competency equivalent to Elementary Algebra (MTH 095) to register for required Manufacturing Math MFG 102. For each certificate, students are required to complete an internship that will be offered during the last 8 weeks of program completion.
Employment Opportunities
Jobs that are in Demand:
Industrial Maintenance Technician
Quality Control
Maintenance Mechanic
Electrical, Lighting and Wiring
Food and Beverage Manufacturing
Commercial Aircraft / Military Space System
Fabricated Metal Product
Manufacturing Companies in the Area that are in Need of New and Trained Employees:
Gelita
Ed Miniat
Carl Buddig
Calumet Carton
Land O Forest
Linz Meat
Kay Manufacturing
Universal Metal Hose
Manufacturing Basics Certificates
Manufacturing Basics Certificate (CPT)
The Certified Production Technician (CPT) Certification prepares the student to understand the core technical competencies of higher skilled production in all areas of manufacturing. The Manufacturing Skill Standards Council (MSSC) awards the student with the nationally recognized full Certified Production Technician (CPT) Certification upon passing all four Production Modules: Safety; Quality Practices & Measurement; Manufacturing Processes & Production; and Maintenance Awareness. The MSSC is an industry-led training assessment and certification system, based upon industry-defined and federally-endorsed national standards.
Upon completion of this certificate, you will be prepared for entry level manufacturing positions with the opportunity for advancement in the field and continuing educational opportunities. You will be familiar with manufacturing terminology, be able to perform mathematical operations needed in a manufacturing environment, be computer literate and aware of the day-to-day expectations employers have for successful employees. You will have also had the opportunity to acquire industry-recognized credentials.
Overview for College Success
Overview for College Success (OCS 121) is a course is designed to assist students in the navigation of becoming successful in college and life. Major topics include setting academic, career and personal goals; effective communication strategies; study skills; critical thinking; self-discovery; and learning styles. In addition, this course delves into topics such as stress management, diversity and other well-being topics. Students will develop educational and career plans, learn to utilize college resources and receive extensive help in course planning. OCS 121 credit is not calculated in the course minimum credit totals listed in this section.
Students must take OCS 121 if they meet one or more of the following:
First time degree seeking students.
Transfer student with less than 12 credit hours and no evidence of similar course on transcript.
Registering for 6 or more credits.
Test into 2 or more developmental classes.
Currently does not have OCS credit or registered for OCS.
Overview for College Success
CREDITS
OCS 121
Overview for College Success
1
MFG 101
Manufacturing Safety
3
MFG 102
Manufacturing Math
2
MFG 103
Quality and Measuring in Manufacturing
3
MFG 104
Production in Manufacturing
3
MFG 107
Manufacturing Maintenance
3
MFG 120
Manufacturing Internship (last 8 weeks)
2
Total Credit Hours
16
Maintenance Technology Certificates
South Suburban College offers certificate programs in Maintenance Technology. Maintenance technicians keep equipment running efficiently through a variety of duties to safely install, troubleshoot, repair and maintain production and facility equipment according to industry standards that you will learn in these courses. The Maintenance Technology I and Maintenance Technology II certificate programs are each 17 credit hour programs that provide foundational skills in technology, using manufacturing scenarios to enhance the learning process. Students will have instructors with manufacturing experience, classroom visits by professionals, site visits to regional companies, and an internship.
Manufacturing jobs demand a highly skilled workforce, and South Suburban College is responding to the demand, encouraging the retention, growth, and expansion of manufacturing companies in the region.
Maintenance Technology I Certificate (MFG.BASIC.MAINT)
OCS 121
Overview for College Success
1
MIS 101
Computer Literacy Skills
3
MFG 102
Manufacturing Math
2
MFG 121
Industrial Safety
2
MFG 122
Industrial Blueprint Reading I
2
MFG 123
Mechanic Drives I
4
MFG 124
Electricity and Motors
4
Total Credit Hours
17
Maintenance Technology II Certificate (MFG.BASIC.MAINTII)
OCS 121
Overview for College Success
1
WLD 130
General Welding
4
MFG 131
Equipment Maintenance
2
MFG 132
Industrial Hydraulics
3
MFG 133
Industrial Pneumatics
2
MFG 134
Programmable Controllers (PLC)
3
MFG 136
Maintenance Technology Internship 2
2
Total Credit Hours
17
Forklift Operator Training (Non-Credit)
SSC's Business & Career Institute offers Forklift Operator Training.  Individuals who are seeking to enhance their skills with a short-term career certification and employers who need to ensure their workforce is safe and in compliant should check out this one-day training. SSC will provide completers with a Forklift Operator Certification Card in conjunction with the National Safety Council.
Illinois requires all forklift operators to obtain a license to avoid OSHA sanctions and possible penalties. Forklift driving is no simple matter; it causes more than 100 deaths each year. This certification course covers the basic fork lift driving skills needed to obtain your Forklift Operator Certification.
For more information, please contact Gervaise Edwards at (708) 596-2000 ext. 5723.