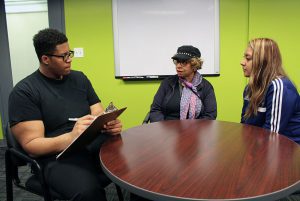 The Human Services program introduces students to the field of professional helping by offering a cluster of courses that are the foundation for further study. Students who are interested in social work, counseling, addictions studies and preparing for the C.A.D.C. exam will learn from the carefully developed curriculum that is based on CSWE (Council on Social Work Education) standards. This will help students transfer into four-year social work programs. The curriculum gives both an overview of the helping field and an opportunity to experience it through an internship.
The program is a total of 65 credit hours that can be completed either on a part-time or full-time basis. Graduates will receive an A.A.S. degree in Human Services. Students who successfully complete this curriculum with a concentration in addictions studies will have met the academic requirements to sit for the State Certified Alcohol and Drug Counselor (C.A.D.C.) examination. The Addictions Counseling Certificate offered by the Human Service Program is an Advanced Training Program certified by I.A.O.D.A.P.C.A. (Illinois Alcohol and Other Drug Abuse Professional Certification Association, Inc.).This curriculum is designed to transfer in whole or in part to the following four-year colleges and universities: Governors State University, National Louis University, University of St. Francis, Chicago State University and Argosy University.
Mission
The Human Services Department provides a sincere commitment to the education and development of its students. The faculty in the Human Services Department have experience that transcends the classroom. The curriculum is reflective of the way the world really works and its diversity. The Human Services Associate program trains students in counselor competencies unique to the helping profession and understanding of what an alcohol and others drug abuse counselor is and does.
Student Learning Outcomes
The following aspects of the disease model are critical to the addictions field and after completion of the Human Services program students will be able to:
Describe the disease concept, understand that it cannot be cured only arrested but most importantly understand that it is treatable.