LGBTQ Pride Month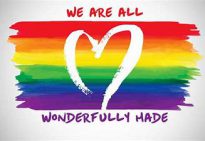 The month of June is LGBTQ Pride Month.
In observance of LGBTQ pride month, visit the Student Life and Leadership webpage to learn more about the experiences and triumphs of the LGBTQ community.
The phrase "lesbian, gay, bisexual, transgender, and queer community" (or "LGBTQ community") refers to a broad coalition of groups that are diverse with respect to gender, sexual orientation, race/ethnicity, and socioeconomic status.
Related Events