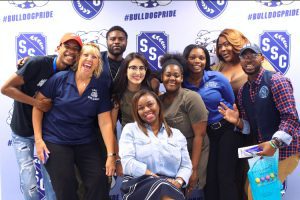 The Office of Student Life & Leadership promotes and enhances the quality of student life through offering free activities and events on campus. The events are related to social, cultural and leadership topics. Some activities include guest speakers, field trips, workshops, performances and trainings.
Clubs & Organizations
The Office of Student Life & Leadership also serves as the central resource for student clubs and organizations, with professional assistance available to individuals and student organizations sponsoring campus activities, forming new clubs and addressing special needs or interests. Currently chartered clubs and organizations are listed in your Clubs & Organizations web page.
SSC Clubs & Organizations Registration/Application form
Student Representatives
Student Government Association
The Student Government Association is a student-led group that strives to promote student activities, keep active communications among all segments of the College community and address student concerns and grievances. If you are interested in joining, see the Student Government Association Constitution (SGA) Constitution for roles and responsibilities. For additional inquiries contact SGA Advisor, Danielle Whitted or call (708)596-2000 ext.2346.
College I.D. Cards
Student I.D.s are issued through the Office Student Life & Leadership. All students are encouraged to obtain an I.D. to gain access to services and events. See the STUDENT HANDBOOK for guidelines.
---
All postings and distribution of materials by students must be approved by the Manager of Student Programming.
---
ON-CAMPUS EVENTS
[tribe_events_list category="student-life-event"]
VIRTUAL EVENTS
[tribe_events_list category="virtual-events"]