APRIL IS NATIONAL
FINANCIAL LITERACY MONTH
SSC is showing the video "FINANCIAL LITERACY". We also have tips and examples of budget plans to help you start great habits to keep track of your money.
Below are Some Downloadable Budget Plan Worksheets to Help You Keep Track of Your Finances

EARTH MONTH EVENTS
EARTH MONTH TRASH BASH – During the entire month of April, SSC is competing against SMHEC Member Institutions to pick the most trash. The winning institution will receive a $250 stipend to support sustainability initiatives on campus. For more information go to the SSC Green Club web page or contact Eric Myers.
CAMPUS CLEAN-UP – On Friday, April 23rd, SSC will be having a campus clean up from 1:00-3:00 p.m. This event will count towards 2 Service Learning credits if you register for the event on the MobileServe app. Prizes will be awarded to people that have the most picks on the LITTERATI app by the end of the day.
Anyone interested in participating can meet at the gazebo at 1:00 p.m. sharp where we will divide up and clean up the campus. Gloves and trash bags will be provided. Please dress for the weather.
For more information contact Eric Myers.
---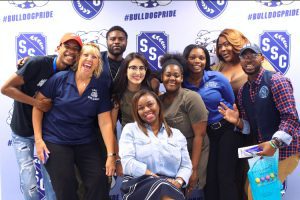 The Office of Student Life & Leadership promotes and enhances the quality of student life through offering free activities and events on campus. The events are related to social, cultural and leadership topics. Some activities include guest speakers, field trips, workshops, performances and trainings.
Clubs & Organizations
The Office of Student Life & Leadership also serves as the central resource for student clubs and organizations, with professional assistance available to individuals and student organizations sponsoring campus activities, forming new clubs and addressing special needs or interests. Currently chartered clubs and organizations are listed in your Clubs & Organizations web page.
SSC Clubs & Organizations Registration/Application form
Student Government Association
The Student Government Association is a student-led group that strives to promote student activities, keep active communications among all segments of the College community and address student concerns and grievances. If you are interested in joining, see the Student Government Association Constitution (SGA) Constitution for roles and responsibilities. For additional inquiries contact SGA Advisor, Danielle Whitted or call (708)596-2000 ext.2346.
College I.D. Cards
Student I.D.s are issued through the Office Student Life & Leadership. All students are encouraged to obtain an I.D. to gain access to services and events. See the STUDENT HANDBOOK for guidelines.
---
All postings and distribution of materials by students must be approved by the Manager of Student Programming.