The Highway Construction Careers Training Program is a 450 hour training program. The programs run Monday through Friday, 7:50 a.m. to 4:30 p.m. daily. This is a pre-apprenticeship program for individuals interested in getting into an apprenticeship program with any of the construction trades.
---
Registration for 2023 Fall
Orientation & Testing is NOW CLOSED
Registration for winter classes will open October 1st, 2023.
Winter Class begins February 5th, 2024 and Spring Class begins March, 25, 2024.
---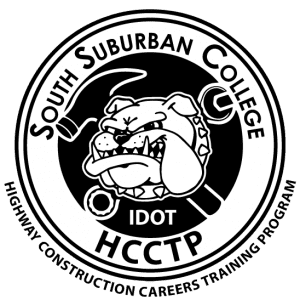 To register for orientation and assessment testing for the next class use the online registration form below. Once you have completed the form you will receive an email with your orientation and assessment test date (please allow up to 48 hours for your response). You will also receive detailed information in regard to the day of orientation. This is the first step in the four-step application process for the program.
The Highway Construction Careers Training Program is intended to help women, minorities, and disadvantaged individuals gain acceptance into the construction trades. The admission process is extremely competitive and not all who apply will be accepted. There is no cost to the program! (Program is funded by a partnership from the Illinois Department of Transportation.) Students will be paid a stipend for each FULL hour of training completed to help with expenses.
Interested candidates must be at least 18 years old, have a High School Diploma/GED®, a valid Driver's License, and be able to pass a drug test!(Including THC)
The application process starts at the mandatory one-hour Informational Orientation followed directly by assessment testing. The applicant needs to score at least a seventh-grade level to be considered for the program. Those who pass the assessment test will be moved into the interview round. After interviews, a selection of candidates will be sent for mandatory drug screening and Physical Agility Day. Once all steps have been completed we will notify accepted candidates.
---
Registration for the HCCTP Orientation sessions are currently closed. Registration will reopen in October.
NOTE: Orientation information, including location address, will be provided when your registration is confirmed.