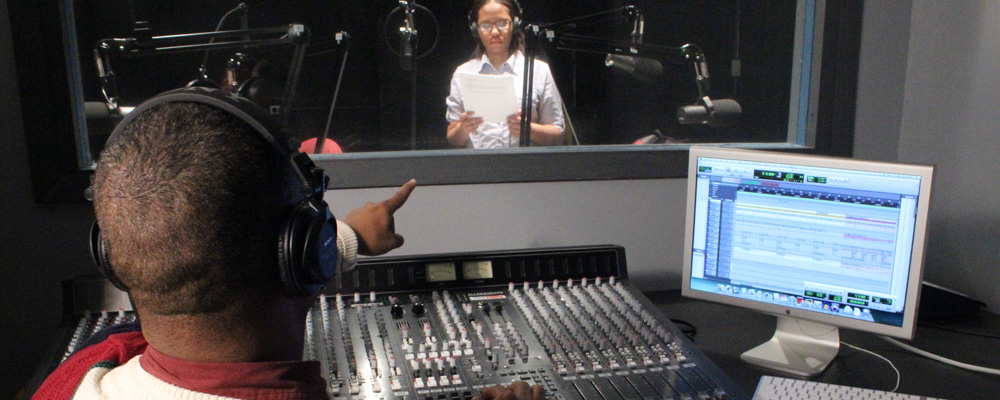 This degree is designed to facilitate smooth transfer to a four-year institution to complete a baccalaureate degree in music business.
Mission
The mission of the South Suburban College Music Department is to offer educational and service programs in music for the Chicago south suburban and Northwest Indiana communities it serves. In keeping with the mission statement of the college as a whole, the music department is dedicated to:
High quality education, training, and services for all individuals who have the ability to benefit from our programs through community ensembles, private lessons, and music courses.
Providing programs that are accessible and affordable to a diverse community of learners via online, college-credit, continuing education and community education courses.
Presenting a wide variety of musical performances and offerings that will enhance international cultural diversity and understanding.
A community of staff, faculty, and students that create an environment and resources for learning through a highly-trained music faculty, who are professional performers, theorists, composers, engineers and conductors.
Collaboration with area elementary, middle and high schools to provide ancillary learning opportunities through clinics, festivals, guest artists, guest performances and guest conducting.
Up-to-date facilities and technology that help prepare students for transfer to baccalaureate programs, using state-of-the-art music labs, rehearsal facilities and "smart" classrooms.
Program Student Learning Outcomes (SLOs)
Students who complete courses in the South Suburban College music department will be able to successfully demonstrate
An understanding  and appreciation for music of multiple cultures
Aural skills
Keyboard harmony skills.
Knowledge of music history.
Knowledge of music theory and compositional techniques
Music performance skills.
Knowledge of music business.
Knowledge of music technology.
Additional Information
Admission to the AA in Music Business is open to any student striving for a professional career in music. Contact the Music Department about auditions and music placement examinations.
Associate Arts Degree in Music Business, Recommended AA Transfer Curriculum
Students will need to complete additional general education requirements in humanities and social and behavioral sciences at the institution to which they transfer. The reduced credits in general education at SSC enable students to complete the required sequences of music courses during their freshman and sophomore years, which replicates the distribution of general education in the four-year institutions. Students should consult the Transfer Center regarding transferability of elective courses.
Faculty are available during scheduled office hours to advise music students.
Overview for College Success
Overview for College Success (OCS 121) is a course is designed to assist students in the navigation of becoming successful in college and life. Major topics include setting academic, career and personal goals; effective communication strategies; study skills; critical thinking; self-discovery; and learning styles. In addition, this course delves into topics such as stress management, diversity and other well-being topics. Students will develop educational and career plans, learn to utilize college resources and receive extensive help in course planning. OCS 121 credit is not calculated in the course minimum credit totals listed in this section.
Students must take OCS 121 if they meet one or more of the following:
First time degree seeking students.
Transfer student with less than 12 credit hours and no evidence of similar course on transcript.
Registering for 6 or more credits.
Test into 2 or more developmental classes.
Currently does not have OCS credit or registered for OCS.
Minimum General Education (39)
Communications (9)
ENG 101
Composition and Rhetoric
3
ENG 102
Composition and Research
3
SPE 108
Oral Communication
3
Humanities and Fine Arts (9)
GROUP II
Select ONE Humanities elective
Students earning an Associate degree must meet the requirement for coursework on improving human relations as defined in Public Act 87-581.
3
GROUP II
Select TWO Fine Arts electives
Students earning an Associate degree must meet the requirement for coursework on improving human relations as defined in Public Act 87-581.
3
MUS 123
Music Appreciation
3
MUS 223
Introduction to African American Music
3
Social and Behavioral Science (9)
ECO 201
Principles of Economics, Macro
3
ECO 202
Principles of Economics, Micro
3
GROUP III
Select from Social Science Elective
Students earning an Associate degree must meet the requirement for coursework on improving human relations as defined in Public Act 87-581.
9
Mathematics (3)
MTH 115

MTH 126
General Education Mathematics
OR
Fundamentals of Statistics
3

3
Physical and Life Science (7)
GROUP V
Select ONE COURSE from Physical Science Electives. Must include one lab.
7-8
GROUP V
Select ONE COURSE from Life Science Electives. Must include one lab.
7-8
Area of Concentration/Electives (27)
Students consult the College & Career Success Center for help in selecting courses appropriate for the program at the college or university where you plan to transfer.
BLW 203
Legal Environment of Business
3
BUS 108
Introduction to Business
3
MUS 109
Introduction to Music Business
3
MUS 116
Music Theory I
3
MUS 117
Ear Training and Sight Reading I
1
MUS 126
Music Theory II
3
MUS 127
Ear Training and Sight Reading II
1
MUS 131-146
Private Applied Music
4
MUS 171
Keyboard Harmony I
1
MUS 172
Keyboard Harmony II
1
MUS 225
Introduction to Music Technology
3
MUS 187

MUS 190

MUS 195

MUS 197

MUS 198

MUS 199
South Suburban College Voices
OR
South Suburban Chorale
OR
Symphonic Band
OR
Jazz Band
OR
Orchestra
OR
Chamber Ensemble
1