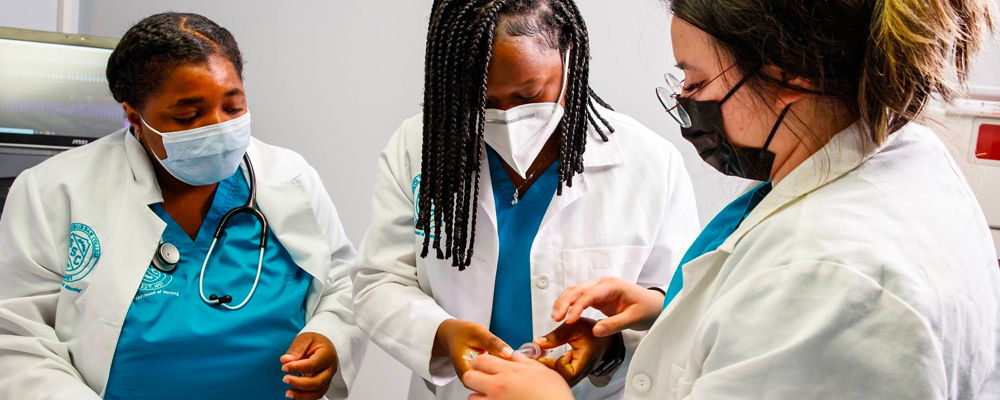 This is a full time program. The Associate Degree Nursing (ADN) Program provides students with specialized training to acquire a basic knowledge of nursing theory and practice. Registered Nurses provide services to the community in a variety of capacities to deliver health care. Upon completion of the program, students are prepared to take the National Council of Licensure Examination (NCLEX-RN).
The Free Class Waiver is available to first time credit students residing in District 510 and in Lake County, IN. This Free Class applies to tuition only, does not apply to courses of more than 5 credit hours (this includes any special High School Cohort) and may not be used for summer term unless you are a high school student. May require Placement Testing prior to registration. Must be verified and processed in the Financial Aid Department room 2355.
Mission Statement
The mission of the South Suburban College Associate Degree Nursing ("ADN") Program is framed from the mission of South Suburban College. The Nursing Program's mission is to offer nursing education to the diverse student body served by South Suburban College, prepare graduates for eligibility to take the NCLEX-RN® licensing examination, educate students to provide safe, quality, patient-centered nursing care in current healthcare settings, and provide a nursing knowledge base for lifelong learning, either through continuing nursing education or formal degree programs.
Program Student Learning Outcomes
Upon completion of the ADN Program graduates will be able to:
Provide safe, quality, evidence-based, patient-centered nursing care in a variety of healthcare settings to diverse patient populations across the lifespan.
Engage in clinical reasoning/nursing judgment to make patient-centered care decisions and to function within the complex healthcare environment.
Participate in quality improvement processes to improve patient care.
Participate in collaboration and teamwork with members of the interprofessional team, the patient, and the patient's support persons.
Use information management principles, techniques, and systems, and patient care technology to communicate, manage knowledge, mitigate error, and support decision-making.
Assimilate management, legal, and ethical guidelines in practice as a professional nurse.
Promote a culture of caring to provide holistic, compassionate patient care
For more information concerning application acceptance into the Associate Degree Nursing (ADN) Program at SSC.